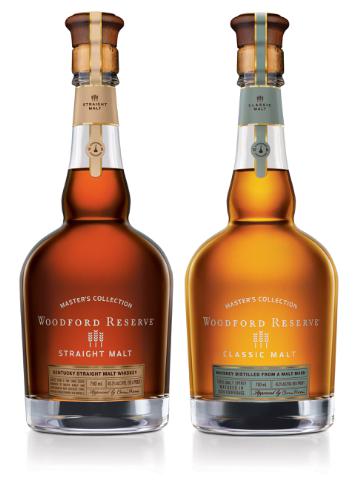 Woodford Reserve Distillery in Kentucky, which I had the privilege to tour a few years back, releases annually its limited edition Master's Collection. Usually mostly selling out quickly, previous offerings have focused upon Four Grain, Sonoma-Cutrer Finish, Sweet Mash, Seasoned Oak, Maple Wood Finish, Rare Rye and Four Wood. Now, for 2014, the bourbon people have turned to malt, unveiling the Double Malt selection.
The Double Malt Selections – Straight Malt Whiskey and Classic Malt – are said by Woodford to be the first fully matured whiskies crafted from malt in Kentucky since Prohibition. Triple distilled in the distillery's copper pot stills, these malt whiskies are two separate 750 ml bottles which are individually numbered and bottled at 90.4 proof.
As for the why of doing it a Kentucky malt, it was noted by Woodford that
whiskey is presented globally in a range of flavor profiles typically described as either Old World or New World in style. Old World whiskeys such as Scotch and Irish typically have a grain-focused flavor profile and are matured in used barrels, while New World expressions such as Bourbon and Tennessee whiskeys highlight the impact of new cask maturation. With the Straight Malt Whiskey matured in new barrels and Classic Malt matured in used barrels, the offerings afford a rare opportunity for a side-by-side barrel style comparison featuring Old World versus New World styles.
Both will price for around $100 a bottle. Tasting notes for the Straight Malt suggest "a creamy balance of new cask sweetness and spice with a rich pear and banana fruitiness. Rich, warm oak notes run throughout." As for the Classic Malt, one finds hints of "chocolate malt, honey, buttery shortbread and a touch of lemon custard."

Editor's Note: This whiskey was...
Nino Kilgore-Marchetti is the founder and editor-in-chief of The Whiskey Wash, an award winning whiskey lifestyle website dedicated to informing and entertaining consumers about whisk(e)y on a global level. As a whisk(e)y journalist, expert and judge he has written about the subject extensively, been interviewed in various media outlets and...