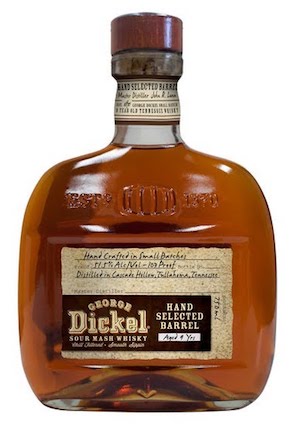 Editor's Note: A sample of this whiskey was provided to us by those behind it. The Whiskey Wash, while appreciative of this, keeps full independent editorial control over this article.
Even growing up as a Tennesseean, I don't remember seeing or hearing much about George Dickel Sour Mash Whisky. When I lived on campus as a college student in Chattanooga, it certainly wasn't among the bottles of Jack and Captain Morgan and no-name vodka lined up on top of dorm room refrigerators, nor was it in the liquor cabinets of adults brazen enough to display such things in the Bible Belt. I might not have known it existed if it weren't for that one billboard advertising distillery tours on I-24 near Exit 111 to Tullahoma. Perhaps that's a shame, since George Dickel makes a damn fine, if underappreciated, example of Tennessee whiskey. Then again, perhaps it's to Dickel's reputational (though not financial) benefit that so few souls have ever ordered a George and Coke.
Today I have the privilege of sipping a rare breed of Dickel's sour mash: the George Dickel Hand Selected Barrel, aged nine years, with (former) Dickel Master Distiller John R. Lunn's signature right there on the label for good measure. Dickel offers both nine and 14 year-old barrels to spirit purveyors eager to select and purchase an entire cask. As with any single-barrel product, your experience may vary. Note that this is an entirely different product than the more readily-available Barrel Select, which blends the contents of 10-12 year-old barrels.
Like other Dickel products, this one's heavy on local corn, twice-distilled, chilled, exposed to charcoal, and then aged in new American oak (#4 char for staves, #2 for barrel heads) in the one-story rickhouses scattered atop the property's hills.
I can't feign dispassionate objectivity regarding this bottle: it's a fine whiskey that hits all the right notes and then some, serving as a perfect example of its tradition. Seeing George Dickel step up its game with new and delicious expressions is a thrill, especially when the results are so tasty. I should note, though, that my optimism is dampened by this disturbing fact: George Dickel, under Diageo, is bleeding distillers. Master Distiller Lunn (essentially the author of Barrel Select and Hand Selected Barrel products) left Dickel to work with the Popcorn Sutton Distillery in east Tennessee. To make matters worse, his replacement, Allisa Henley, with whom he had worked closely, took the Dickel reigns only briefly before also accepting a position with Popcorn Sutton. It's my hope that Diageo finds a way to keep Dickel headed in the right direction, but Lunn and Henley had worked together at Dickel for 10 years to create the lovely products now on store shelves—they will not be easy to replace.
Vital Stats: 103 proof. Aged nine years. 84% corn, 8% rye, and 8% barley. The label does not identify the barrel, but does include the bottle number (mine is no. 102). $40-50.
Appearance: Dark, ruddy amber. Legs cling to the glass indefatigably, spaced uniformly. It's a kick to watch the legs fall if you have half an hour to waste.
Nose: At 103 proof, sticking your nose in the glass will just burn. But give it a minute (and a little space) and you'll find toast, sawdust, and creamed corn. After another moment, there's syrup, caramel, cinnamon, and the very distinct aroma of a tart Granny Smith apple.
Palate: Oak, allspice, and barley to smooth out the rough edges. While the flavors aren't especially surprising initially, the texture is stunning—silky and viscous, coating the mouth, then leaving a cool sensation, as if someone snuck a drop of chilled slivovitz into your glass. It finishes with a pinch of black pepper and wintergreen. The smallest splash of water softens it up perfectly, but even without it, I swear I taste apple, more mild and sweet than tart in the mouth. That flavor alone contrasts and balances the oak beautifully.
Final Thoughts & Score:
Score: 92/100
This Tennessean is prepared to make a bold claim: this is my new favorite Tennessee whiskey. Call me a homer if you will, but the appearance, aroma, and texture of this spirit are all excellent, as are the oak and pepper flavors, while the wintergreen and apple notes make it uniquely delicious. The high alcohol content gives it a gutsy punch without overwhelming the complex, layered taste. Hats off to the good folks of Cascade Hollow!
My only complaint is with very limited availability, so let's hope George Dickel is just getting warmed up with this release and more is on the way. In the meantime, I'll keep my fingers crossed that Diageo has a plan to continue such high quality production without Lunn and Henley at the wheel.

InchDairnie Distillery recently announced its...
Mark is a poet, writer, editor, and cheese monger. He's also a real trip on karaoke nights. After leaving a career as an English professor, he started a small business at ParagraphDoctor.com and moved to Portland. Now he's all about birds, bourbon, and breweries. His ridiculous birding blog can be...