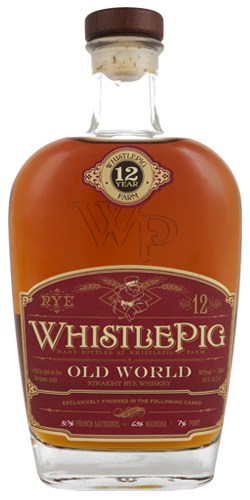 Editor's Note: The Whiskey Wash welcomes Carin Moonin to our writing staff. Also, this whiskey was provided to us as a free sample to review by the party behind it. The Whiskey Wash, while appreciative of this, did keep full independent editorial control over this article.
Whiskey aged in wine casks—such as sherry or port—reminds me of that old commercial for Reese's Peanut Butter Cups: "You got your chocolate in my peanut butter! You got your peanut butter in my chocolate!" It can work well for sweets, and just as pleasantly for whiskey.
In late June, Vermont-based WhistlePig came out with 12 Year Old WhistlePig Old World. This whiskey is the final result of an experiment beginning in spring 2014, during which WhistlePig finished a 12-year-old-rye whiskey distilled in Indiana in former Sauternes, Madeira and Port barrels. Each one of these were first released as limited edition, single cask type expressions, and what's in bottle here is a marriage of those three.
It's an experiment that's worked well for WhistlePig, as The Old World Series won the 2015 Double Gold Award for best rye at the 2015 San Francisco World Spirits Competition. It comes from a mash of 95% rye and 5% malted barley, and as for the blend of the three cask types, brings them together into a harmonious three-way offering that's 30% Sauternes, 63% Madeira and 7% Port.
The color is light, reminding me of a fine clover honey. The nose brings slight vanilla, caramel and apple cider. (I couldn't help but exclaim, "It smells like enchantment!") I often find rye a bit abrasive, but that's not the case with the Old World. It's smooth on the palate, being both easy and a little buttery. Even though Port is represented the least in this trio, I picked up some of the raisin flavor that I get with it.
In sum, it's extremely drinkable and finishes delightfully.
The Old World doesn't come cheap, retailing well over $100 a bottle. Even for that I would consider it a good value, giving this wonderful rye whiskey a rating of 93. As my first review for this blog, I have to say: this sets the bar pretty high.

Editor's Note: This whiskey was...
A decade ago, I traded a 5th floor walkup in Hoboken, NJ for a house in SE Portland and remain grateful for the swap. Portland's a great whiskey town: It fits the weather and my general mood (even improves it sometimes). I enjoy exploring the many shades of brown liquor...