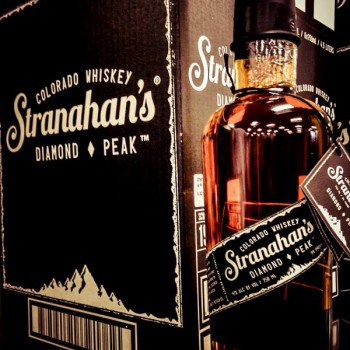 Editor's Note: This whiskey was provided to us as a free sample to review by the party behind it. The Whiskey Wash, while appreciative of this, did keep full independent editorial control over this article.
Denver-based Stranahan's Colorado Whiskey, which we did an extensive profile of earlier this year, is one of the more well-established craft distilleries out there, with their first release in 2006 being among the earliest craft spirits made in Colorado. Their flagship product, Stranahan's, is a single malt whiskey distilled onsite and aged in charred new white oak barrels for two to five years. Its bold flavor profile has won a lot of fans over the years, and after scaling back distribution in 2011 it appears to be returning to more markets across the US.
Stranahan's Diamond Peak, their newest release, is a limited edition, single malt offering made from a selection of exclusively four-year-old #3 char barrels. Diamond Peak represents a midpoint between the distillery's signature bottling and their cult-favorite Snowflake, a series of rotating one-off expressions sold only at the distillery in Denver.
Stats: 94 proof, four years, 750 ml bottle for $70. Our review sample did not include a batch number.
Color: A warm, reddish amber
Nose: This is a really juicy, fruity aroma. Notes of melon, off-dry Riesling, clove, and plum sit on a warm grainy backbone for an effect something like a fruit cobbler or fancy breakfast porridge. The malt character is easy to detect with an almost beery richness, and there's a pleasant bit of metallic, air conditioner-like ozone in the finish that keeps the whole thing from being insipid.
Flavor: More grain character comes through in the palate along with richer toffee and leather that you'd expect from an older bottling. The metallic note from the nose also carries through here in the form of a wine-like minerality. There's a very sweet, creamy quality to the spirit that's reminiscent of my two favorite childhood movie theater candies: milk duds and Charleston Chew. The finish is long, mild, and low on wood astringency, instead offering a lingering note of raspberry and honey. It's an intriguing combination.
Score: 91 points.  This is just straight-up yummy, without the caveats usually required for a younger craft whiskey. The intensity of the standard label has been turned down a few notches, resulting in a slightly more approachable, nuanced spirit. $70 a bottle isn't cheap, but it would be a great entry point to the world of high-end American craft for a loyalist from the big-name Scotch or bourbon camps, since it shares some qualities with each.
Margarett Waterbury is the author of Scotch: A Complete Introduction to Scotland's Whiskies and a full-time freelance writer and editor. Her work has appeared in Whisky Advocate, Food and Wine, Spirited Magazine, Artisan Spirit, Edible Seattle, Sip Northwest, Civil Eats, Travel Oregon, Artisan Spirit, and many other publications. She is...