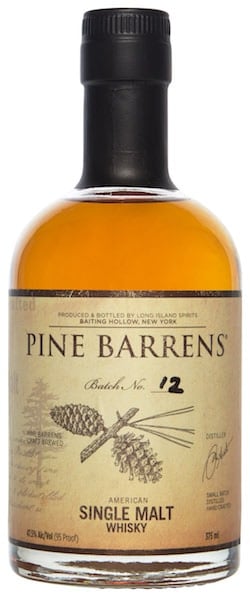 It's no mystery that the culture of craft beer has been taking steps to appeal to the craft spirits drinker. The rarest, most exclusive craft beers are often aged in oak barrels (usually used spirit barrels,) and those aged in, say, Pappy Van Winkle barrels command extremely high secondary market value. It was only a matter of time until the tables were turned and craft spirit producers realized they could appeal to the craft beer drinker; take New Holland Beer Barrel Whiskey or Stone Barn Hair of the Dog collaboration Rye as perfect examples.
Long Island Spirits out of New York has found an interesting way to continue this trend, by foregoing a typical whiskey mash for a craft brewed English-style barleywine ale to make its Long Island Spirits Pine Barrens expression.  An actual finished beer is used containing 10% ABV and 70 IBUs. For those who aren't familiar, IBU is an acronym for International Bittering Units, measuring bitterness in beer, mostly derived from the addition of bittering hops. For a scale that ranges roughly 0-100, 70 is quite bitter (think IPA territory.) Further research shows that the beer in question is the Old Howling Bastard from Blue Point Brewing, a brand recently acquired by Anheuser-Busch/InBev. Despite the claim the final product is "embraced by [the] Craft Beer Community," concerns about a distilled bitter liquid leave me nervous to take the first sip.
Time in oak should allow hop bitterness to fade, however, and Long Island Spirits Pine Barrens spends "about a year" aging in American petite charred oak casks. The name 'Pine Barrens,' which refers to a local New York bioregion, most likely also alludes to the hoppiness and pine notes that the process detailed above surely promises.
Overall, the schizophrenic process employed here produced some extremely interesting results: unique, yet disappointing. but experimentation at this stage of the small batch craft spirit game is necessary, whether or not they all emerge from their oak barrels with five stars and a gold medal.
Tasting Notes: Pine Barrens American Single Malt
Vital Stats: 95 proof. Made from Old Howling Bastard barleywine ale from Blue Point Brewing which contains two-row barley, vienna malt, and hops. Aged approximately one year.
Appearance: Somewhere between charred straw and peach skin color. Smooth, light legs. Seems to show some serious separation around the edges.
Nose: Perhaps it's subliminal suggestion here, but the first whiff definitely bleeds pine. Extreme pine. I'm walking through a forest and rubbing up against a pine tree. This pineyness mingles with a strong perfumey note associated with new American oak.
Sniffing this libation reminds me clearly of putting together IKEA furniture in the strangest possible way. Some traditional whisky notes abound, and heat is present as well as an underlying note of orange creamsicle.
Palate: A rounded expression of light char, toasted bread, and cinnamon hits immediately, but is soon disrupted by a perceived bitterness. The bitterness isn't grassy as you'd expect from concentrated hops, but woody, which indicates to me that the oak presence dominates the hoppiness I was earlier concerned with.
There is an unfortunate 'doctor's office' flavor that lingers on the palate for several seconds post-imbibe, which finishes ultimately with a light dusting of cocoa powder. For all the angularity here, each odd nuance plays off one another in an accidentally cohesive way.
Final Thoughts:
This bird is quite odd. It promises a deviation from the norm and certainly delivers. I can see that die-hard fans of the Blue Point barleywine will seek this out as a unique supplement to their favorite strong ale, but whisky fans may shudder at the frazzled approach and potential over-oaking. Additionally, the lack of beer-like character renders the more complicated and costly process as unnecessary and excessive. Decent whisky, but not worth the price or effort to obtain.

Scotland's Isle of Raasay Distillery...