What we have in front of us here are three distinctly different styles of rye whiskeys, brought to us by one of Minnesota's most ardent "field-to-glass" producers, Far North Spirits. Far North is the passion project of Michael Swanson, an ex-corporate world dweller with a rich Swedish-American family history of grain farming in Northern Minnesota.
The crew at Far North hand-selects and plants the "finest" non-GMO grains like AC Hazlet rye and Minnesota 13 heirloom corn in order to craft these field-to-glass projects, and is proud to "mill, mash, ferment, distill, and bottle" on-site at the nation's northernmost distillery.
While there's little mystery behind the field-to-glass concept, there's less understanding about the esoteric styles included in this roundup. Minnesota Rye Whiskey is obviously titled thusly in the spirit of the single estate rye that bleeds Minnesota sweat and soil, but Maryland-style Rye Whiskey may be slightly more foreign. According to one beverage expert, Maryland-style is meant to be a "brighter" rye, with an earthier, grassier character than most. Look to  Maryland Free State Rye Whiskey and Heaven Hill's Pikesville as flagship entrants in to this obscure category. Some historians swear the distinction means the opposite: bigger, burlier, thicker, and more intense.
Either way, these two under-the-radar styles, along with a 100% rye offering, make up the Far North Spirits cavalcade of rye whiskeys. As descriptors on these styles seem lacking (and muddied when they're not), the only true test is taste. A side-by-side analysis will hopefully bring out the unique differences in these geek-friendly whiskeys.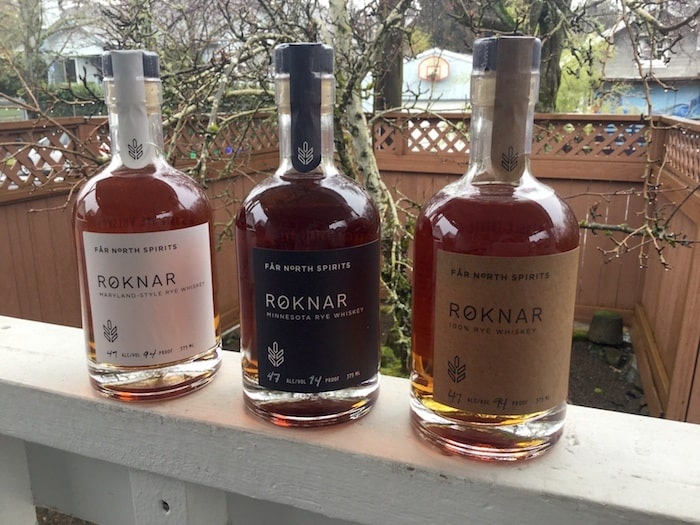 Roknar Minnesota Rye Whiskey
Vital Stats: 94 Proof. 80% Hazlet rye, 10% each heirloom corn and malted barley. $35/375ml.
This whiskey pours the darkest of the three, a deep amber with vibrant orange notes. It possesses a slightly dulled brilliance and thin, steadfast legs clinging to the glass interior. Its aroma has notes of sourdough, freshly-cut oak, copy paper, and underripe red berries.

As it hits the palate, there is an immediate sense of balance between viscous sweetness, oak, alcohol heat, and earth tone huskiness. The undertone of vanilla-tinged caramel allows for multiple sips which breed an appreciation for the peppercorn-like notes of the Hazlet rye. We liked this one back in 2016, and nothing much has changed.
If there's a negative, it's a lingering mouthfeel that slightly stings and cottonmouths the palate.
Roknar Maryland-Style Rye Whiskey
Vital Stats: 94 Proof. 65% Hazlet rye, 25% heirloom corn, 10% malted barley. $35/375ml.
Moving down the color wheel, the Maryland-style appears a lighter shade of orange with dull straw notes. This whiskey also suffers from a lack of brilliance, but possesses a pleasant clarity. Viscous cascading is also a bit more restrained here, with more swirling necessary to create spiderweb-like legs. This one has a simpler aroma, vanilla stands out, but also less oak brings forth a strong solvent note, esters and alcohol bite are more present and create a lack of cohesion in the nose.

This one plays a little more aggressively on the sweet/boozy dichotomy, and the first sip possesses very little balance in the way of drinkability. It's not the rocket fuel that the aroma suggests, but simpler notes of dark corn syrup, cotton candy, and hazelnuts seem to amplify the booziness.
The lack of distinct rye character makes this less of a sipper and more of a mixer – I can see an amazing Old Fashioned in my future with this bottle.
Far North 100% Rye Whiskey
Vital Stats: 94 Proof. 95% Hazlet rye, 5% malted barley. $35/375ml.
Without copy-and-pasting the visual description from the Maryland-style, I'll simply say that it would be very easy to mix these two up. Solid, dull orange with minimal legs, clear but lacking brilliance. Hued right down the dull spectrum of yellows and oranges. Aroma here is the glueyest of the bunch, recalling grade school paste and high school wood shop. There are happy hints of bruleed banana, white chocolate, and even an earthy bite of peanut skin.

By far, the 100% rye has the best flavor and mouthfeel. It's coating, and possesses that heat, but all in good measure and drinkable while feeling beefy and burly. After my palate has adjusted, a brilliant balance of deep and complex brown sugar sweetness and fresh leather take over, finishing each sip with a hint of smoke and just the right amount of intensely tannic rye.
This is the winner of the bunch, and an exceptional achievement in the world of rye whiskey.
Final Thoughts
Far North Spirits' dedication to craft and grain-to-glass production is obvious, even right down to their bottle labels. I'm happy when such an ethos is realized at no detriment to the final product. The main issue is with the pricing of such uncompromising visions, and the only one that I'd repeat with such a hefty price tag is the 100% Rye.
For die-hard rye enthusiasts however, a trip through Far North's Roknar series might be a worthwhile detour from the everyday.

Do you love whiskey sours?...