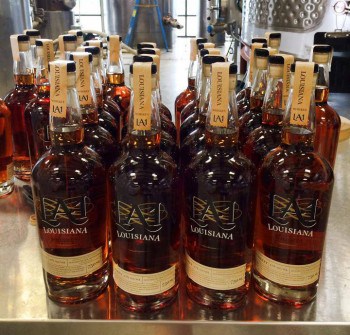 I am a fan of hand made goods. Craft whiskeys have the advantage in my book, due in a large part to the dedication and passion it takes to develop and bring them to market.  When a bottle of LA1 Louisiana Whiskey came my way from Donner-Peltier Distillers in Louisiana, I thought, "Now here is something unique!"
Donner-Peltier has been in business for a little over two years.  Their mission began, not with a passion for whiskey, but an observation that no one was making rum from the sugar cane fields in Thibodaux, Louisiana.  A master distiller was hired and a 3,000 gallon still purchased. The result was rum, varations on rum, and a rice-based gin. Now they've entered the whiskey scene with what's said to be the first Louisiana whiskey.
According to their website, and widely quoted, "LA 1 contains corn for body, rye for spice, barley for balance, and local rice for sweetness. This 94 proof whiskey is incredibly smooth and hand crafted in small batches." According to other sources, their mash bill includes the use of chocolate malted barley – a mainstay of porters and stouts in the brewing industry.
Thirsty from my research, I poured a dram of the Donner-Peltier LA1. The first thing I noticed was the color. What filled my glass was a pale straw, barely hinting at color.
On the nose, alcohol and turpentine dominate, with an undertone of fresh char, suggesting a very young spirit. And, indeed, the rush to market shows in the palate. The alcohol burn is intense, with sweet corn notes hinting of mash bill for a brief moment before sharp oak and rye come in with a powerhouse punch of burnt cinnamon. The chocolate malt gives no sweetness, but a flat earthiness.
The finish is the most flavorful part of this whiskey – toasted barley and chickory notes -quintessential Louisiana – give it a grain coffee flavor. As for pairing, I wouldn't serve this whiskey to anyone, and didn't finish the dram.
There is something to be said for craft whiskey. Without passion, though, there is no craft, and it is clear that Donner-Peltier's passion is not for whiskey. I give this whiskey a score of 70 points – and only because I actually like the flavor of coffee substitutes.  Just not when I want whiskey.

Scotland's Isle of Raasay Distillery...
Tish Lester is a former restauranteur whose love of good flavors led her to the world of whiskey, where she is an avid participant, having attended nosings, tastings and master classes throughout Europe and the United States. She has recently discovered the truth that for every moment in our lives,...