35 years now has St. George Spirits out of California been at the forefront of the craft distillery movement in the United States. As one of the oldest of its kind out there, it has a lot to celebrate in a time when artisan spirits in general, and whiskey specifically, are going through a renaissance. It is with great interest therefore that they've unveiled the very limited edition St. George 35th Anniversary Single Malt Whiskey.
The St. George 35th Anniversary Single Malt Whiskey, according to the distillery, does not contain whiskey which is 35 years of age. Rather, it is comprised of "eight of the most venerable barrels in the St. George single malt library, ranging 6–18 years old." This includes whiskey laid down back in 1997 as the fourth barrel of St. George Single Malt Whiskey ever to be filled. This unique single malt follows on the heels of Lot 17 of their yearly single malt release.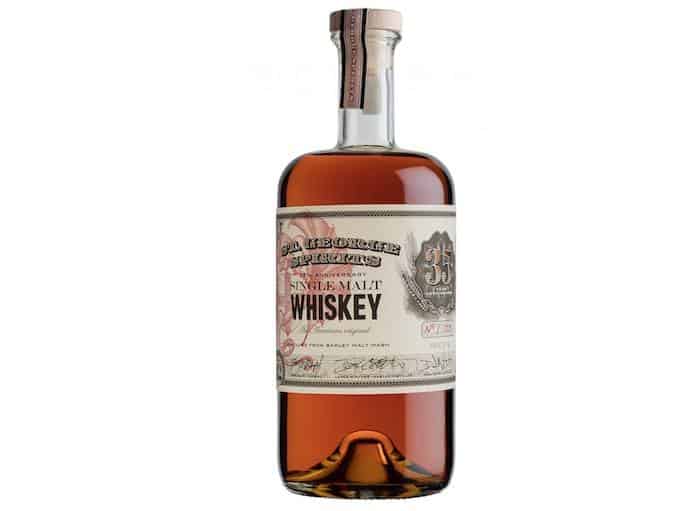 "Every release of our single malt needs to be iconic," said St. George head distiller Dave Smith in a prepared statement, "and we endeavour to exceed expectations with each expression. It was a genuine joy and honor to build upon the legacy of our whiskey program by blending this 35th Anniversary release."
As for the specifics of the blend, here's notes on each barrel as outlined by the distillery:
SM-F015-05: Our Lot 15 bottling of St. George Single Malt Whiskey ranged 4–16 years; we finished a portion of this release in California dessert wine cask for two years, which imparted lively apricot notes and a de ned minerality and brought total time in cask to 6–18 years.
SM-F014-33: Our Lot 14 bottling was named Craft Whiskey of the Year by Whisky Advocate and earned St. George the title of Craft Whiskey Producer of the Year from Whisky Magazine. Resting a portion in California dessert wine cask for another three years further mellowed this whiskey and brought in notes of fruit pastry and rich salted butter.
SM-F012-05: When it was originally put together for our Lot 12 bottling, this whiskey was a blend of 15 barrels ranging 5–12 years in age. After five additional years in California dessert wine cask, this whiskey ranged 10–17 years. It contributes a densely rich, dried fruit quality to the original blend.
SM-RB-06: The wildcard. Barreled in a Tennessee whiskey barrel for seven years, this whiskey then spent another five years in a Bourbon barrel that had previously held St. George California Agricole Rum (elephant cane fermented with a Sauvignon Blanc strain of yeast). This cask contributes esters of barrel- aged rum, tropical fruit, and the long finish of jasmine tea.
SM-F014-30: Originally distilled and barreled in 2009, this whiskey spent five years in American oak before being transferred to a California dessert wine cask for another three years. It imparts sandalwood, heather, and green apple.
Lot 17: In order to honor our present as well as our past, we included a portion of our Lot 17 blend in our 35th Anniversary bottling. Lot 17 is comprised of 19 barrels aged 6–8 years consisting of once-used Breaking & Entering Bourbon barrels, port casks, and California dessert wine casks.
SM-F014-31: This whiskey went into American oak in 2010, then into California dessert wine cask in 2014 for another three years (totaling seven years in barrel). The honeyed aspect of botrytis marries here with candied mandarin peel before finishing with baked pecan.
SM-04: This is whiskey distilled in 1997, the fourth barrel of St. George Single Malt Whiskey ever laid down. It spent 13 years in American oak before we transferred it to stainless steel to allow the whiskey further time to mature without additional oak influence.
Only 771 hand numbered and signed bottles of St. George 35th Anniversary Single Malt Whiskey are planned for release, with each being bottled at 41% ABV. Each 750 ml bottle comes in an oak box, and you'll find official tasting notes for this whiskey below for your consideration.
Aroma: Opens with notes of cherry cola and a touch of co ee. Over time, these aromatics give way to buttery pastry/walnut baklava, with a dose of mandarin orange. Stone fruit and rose geranium dance through as well.
Palate: Dried fruit and more cola, with grain, cocoa, and a hint of black pepper. The finish is rich and creamy, with warm baking spices and the lingering sensation of Sauternes.

Four Roses continues with its...
Nino Kilgore-Marchetti is the founder and editor-in-chief of The Whiskey Wash, an award winning whiskey lifestyle website dedicated to informing and entertaining consumers about whisk(e)y on a global level. As a whisk(e)y journalist, expert and judge he has written about the subject extensively, been interviewed in various media outlets and...