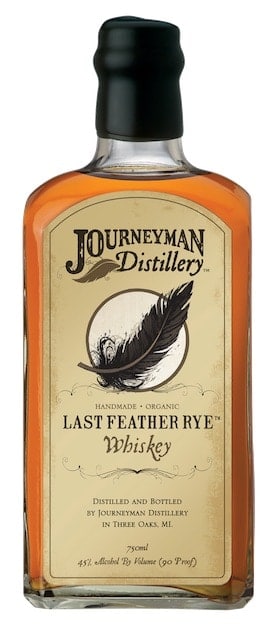 Editor's Note: This whiskey was provided to us as a free sample to review by the party behind it. The Whiskey Wash, while appreciative of this, did keep full independent editorial control over this article.
When Bill Welter, founder of Journeyman Distillery in Three Oaks, Michigan, decided to open a distillery, he knew he had to apprentice before he could create. Having lived in Scotland for a couple of years, he knew the whiskey business was something he wanted to join.
In 2010, Welter began his training at Koval Distillery of Chicago. Koval was one of the first producers of first-class certified organic and kosher spirits in the Midwest. It was during his apprenticeship at Koval that the distiller perfected the recipe which would become Last Feather Rye.
Everything about the Journeyman story has deep regional roots. Almost every piece of furniture and equipment in their building has a story, and their ingredients are sourced as much as possible from local producers. Craft and care are evident in even the little details of this family-run affair. The whiskey, distilled from "a blend of Midwestern rye and wheat with just a touch of barley added to round out the flavor," is aged in new white American Oak barrels for a classic finish and bottled at 90 proof.
Tasting Notes:
Appearance: Autumn gold in the glass, with well-defined, quick legs creating a corona around the rim before falling.
Nose: A veritable patisserie, heavy with shortbread and macadamia, banana, orange peel and melon
Palate: The cereal on the nose deepens to pound cake and turbinado, with black pepper, cinnamon and pronounced oak mingling with a whisper of softer spices – allspice and clove.
Finish: The finish is short and light, with split kindling and herbal tones of fresh coriander and ginger.
Conclusion/Final Score: 
Some rye whiskeys can be heavy handed and powerful. Last Feather Rye pays homage to mentor Koval with the finesse of this spirit. Its lightness makes this a likely aperitif, or alongside holiday hors d'oeuvres. For my part, Last Feather Rye made a perfect mate for a breakfast of sourdough toast, poached egg and avocado.
Score: 88/100 


Florida's Von Payne Spirits recently...
Tish Lester is a former restauranteur whose love of good flavors led her to the world of whiskey, where she is an avid participant, having attended nosings, tastings and master classes throughout Europe and the United States. She has recently discovered the truth that for every moment in our lives,...