How old is too old for bourbon? That is an argument commonly held among drinkers of this American spirit. To date some of the oldest bottlings we've seen come from the likes of Diageo and Buffalo Trace. Now Redemption Whiskey is getting in on the game, debuting a 36 year old bourbon alongside a 18 year old rye.
The new Redemption Ancients collection, according to those behind them, are very limited in number and very old for each relative category of whiskey. The Redemption 36 Year Old Bourbon in particular is one of the oldest bourbons ever released onto the American market. The packaging for each includes metal labels that are hand painted and bottles that are silk screened with Rye fronds. Each is hand bottled and finished with leather cording. Embedded in the wood stopper of each 36 Year-Old bottle is an actual penny from 1978, the year the whiskey was distilled.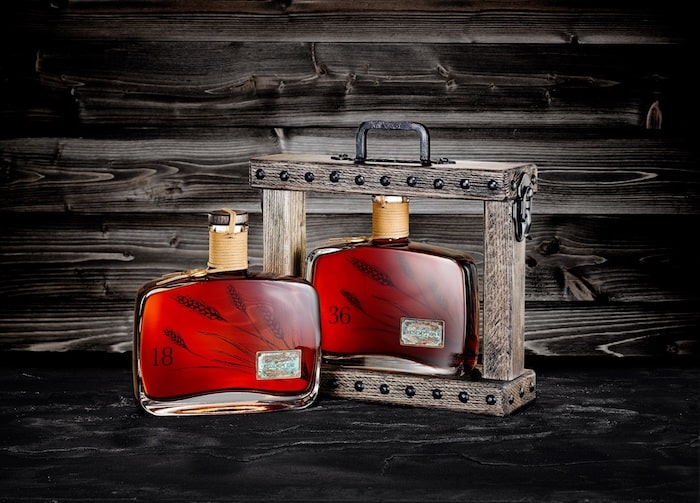 "The Ancients collection features whiskies laid down in barrels in 1978 and 1998 at the old Seagram's distillery in Lawrenceburg Indiana, the same place where every drop of Redemption Whiskey has ever been produced," said Tom Steffanci, President of Deutsch Family Wine & Spirits, in a prepared statement. "The 18 Year-Old is a reflection of our obsession with Rye and showcases the ageability of rye, and the 36 Year Old is a result of our access to precious little cache of bourbon acquired many years ago."
It is said it took four barrels to craft the mere 18 bottles that are being made available for the 36 year old bourbon. The rye, meanwhile, has 600 bottles to its name. You'll find more details, including official tasting notes, below for your consideration. Future releases of this collection will be rare and not occur annually.
Tasting Notes: Redemption 18-Year-Old Rye (109.9 Proof; $400)
Nose: Cedar, dark chocolate, rich baking spices, baked apple, peaches, rich caramel, and maple, mingled with slight herbal notes of tarragon and sage
Palate: Baked apple pie, spice, almond, maple, caramel, orange zest, and pears, with a bright fruit taste brought upon by heat
Finish:  Long and mouth-coating
Tasting Notes: Redemption 36-Year-Old Bourbon (97.6 Proof; $1,200 SRP)
Nose: Leather, coffee, grilled meat, cherry wood, cigar box
Palate: Dried orange, cinnamon, anise, smoke, sweet hickory smoke, and earthy barbecue
Finish: Medium in length, with lingering cherry wood and citrus notes

Editor's Note: This RTD was...
Nino Kilgore-Marchetti is the founder and editor-in-chief of The Whiskey Wash, an award winning whiskey lifestyle website dedicated to informing and entertaining consumers about whisk(e)y on a global level. As a whisk(e)y journalist, expert and judge he has written about the subject extensively, been interviewed in various media outlets and...