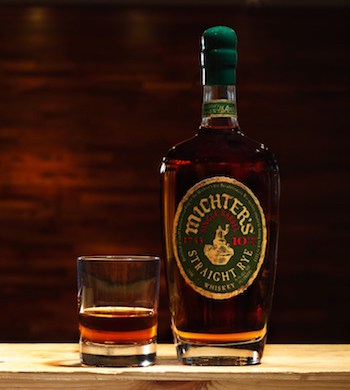 So here's the deal – Michter's, a "Heritage Member" of the Kentucky Distillers Association, has in its whiskey stable what it calls "highly acclaimed, limited production whiskeys that have been subject to allocation because demand has exceeded supply." Such limited supply has resulted in prices for these products at retail being extremely high, at least for their 10- and 20-year-old bourbons, and now with word is they are doing the same limited release plan with their 10 Year rye expression.
The Michter's 10 Year Rye last came to market back in 2014, and the just announced 2016 bottling has been set by the distillery to price at around $150 per 46.4% ABV bottle. My guess is we will likely see this expression jump up in retail value very quickly, both at liquor stores and also on the secondary market, once it is released starting next month.
As for why there was no release of the rye last year, the story being spun is the same as that of the bourbons – an issue of quality. As Michter's master distiller Willie Pratt put it "I wasn't very popular with the sales guys who had none to sell, but I held the 10 Year Rye stocks back for a bit more maturation.  I thought they would be just great with some more age, and I couldn't be happier with how things turned out."
Though Michter's has released no tasting notes for the 2016 version of the 10 Year Rye, here are a few notes from the 2014 version to give you an idea of what was in the bottle:
Deep notes of vanilla and toffee, toasted almonds and cinnamon with an ample dose of crushed pepper and a hint of orange citrus.

New York's Black Button Distilling...
Nino Kilgore-Marchetti is the founder and editor-in-chief of The Whiskey Wash, an award winning whiskey lifestyle website dedicated to informing and entertaining consumers about whisk(e)y on a global level. As a whisk(e)y journalist, expert and judge he has written about the subject extensively, been interviewed in various media outlets and...