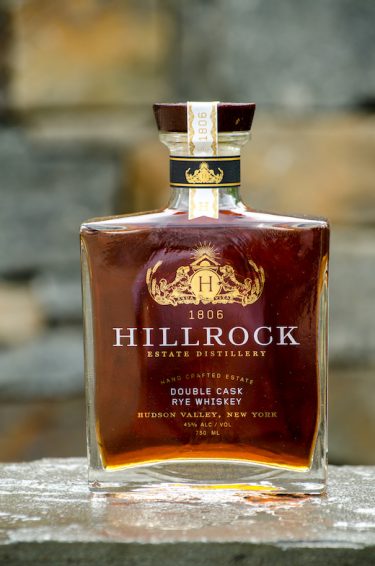 It is little secret to long time readers of The Whiskey Wash that I consider Hillrock Estate Distillery out of New York one of the top craft whiskey outfits in the country. They regularly impress me with their releases, some of which unfortunately are limited edition enough they never leave the distillery's tasting room. So if you are looking for a gift whiskey for Father's Day, you should make your way to their facility to grab a bottle or three of an upcoming rye whiskey finished in ex-Pedro Ximenez sherry casks.
The new Hillrock Double Cask Rye PX Finished Whiskey, as the name implies, is the result of double cask maturation. The spirit, distilled from estate rye, was first aged for an undisclosed amount of time in charred American white oak barrels that were air dried for over two years before assembly. The whiskey was then transferred to the ex-PX sherry casks for final aging before being bottled at 90 proof.
Time spent in the former PX casks lent to the whiskey's flavor profile extra layers of "notable depth and sweetness" that offset the traditional rye spice, according to Hillrock. Full official tasting notes for this release are at the end of this story for the curious.
As for pricing and availability, the whiskey will be released on Father's Day at the distillery in New York's Hudson Valley region at a cost of $100 a bottle. As the bottles may well sell out on this day, Hillrock suggests you email them at [email protected] to pre-reserve a bottle.
"Finishing in PX casks has been favored among fine peated whiskies to balance the smoke with sweetness from the wine barrels," said Dave Pickerell, Hillrock Master Distiller, in a statement sent to us in an emailed press release. "The dessert sweetness from barrels is ideal for balancing the rye spice and the intense clove and cinnamon notes specific to Hillrock's grains."
Color: Dark amber with a slight cherry hue
Nose: Big and bold, full of vanilla, caramel, maple, blackberry and mint. Undertones of clove and cinnamon, honey, maple, oak and herbal tea round out the nose
Taste: Creamy, toasted caramel, plum, fig and dates lead to traditional rye and baking spices which fade to floral, orange peel notes
Finish: Long and surprisingly dry, with rich berry jam and a hint of dark chocolate on the finish 

The West Fork Whiskey Company...
Nino Kilgore-Marchetti is the founder and editor-in-chief of The Whiskey Wash, an award winning whiskey lifestyle website dedicated to informing and entertaining consumers about whisk(e)y on a global level. As a whisk(e)y journalist, expert and judge he has written about the subject extensively, been interviewed in various media outlets and...