Kentucky bourbon. Tennessee whiskey. Texas bourbon. Pacific Northwest single malt. These different whiskey classifications, either officially recognized or not, define some of the regional styles of whiskey emerging in the United States. New York State craft distilleries, not wanting to be left out of this trend, have now unveiled their own interesting spin – Empire Rye.
Empire Rye is the idea of a group of six leading New York distilleries, which are said to have banded together in 2015 to create a consortium dedicated to establishing a whiskey style for the Empire State. What resulted is described by them as "an homage to New York State's pre-Prohibition rye whiskey-making heritage and a testament to the ingenuity and industriousness of its contemporary distillers."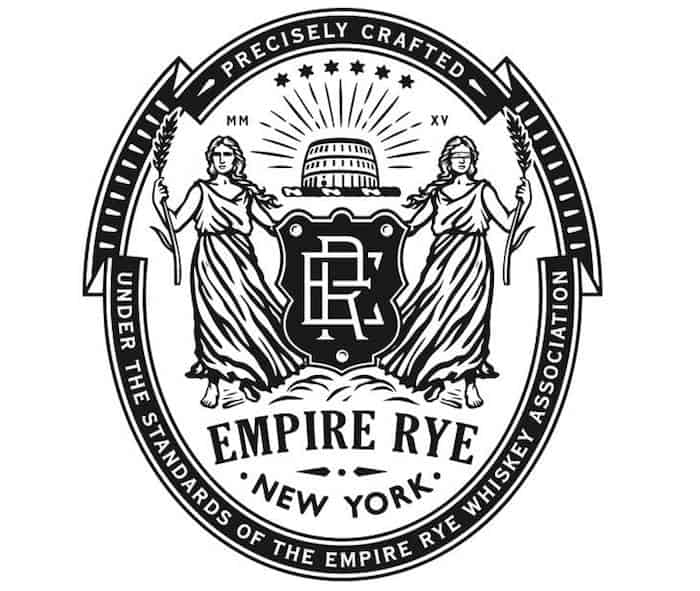 The distilleries initially leading the charge on the new Empire Rye idea include Black Button Distilling (Albany), Coppersea Distilling (New Paltz), Finger Lakes Distilling (Seneca Lake), Kings County Distilling (Brooklyn), New York Distilling (Brooklyn), Tuthilltown Distilling (Gardiner), Van Brunt Stillhouse (Brooklyn) and Yankee Distillers (Saratoga County). In time, the hope is that more New York distillers will choose to join them.
A recent New York Times article goes into great depth about the backstory of the new Empire Rye standard. At its core, rye whiskeys aiming to gain an official Empire Rye sticker on its label must meet a range of criteria, the most important of which is that "at least 75 percent of its grain must be New York-grown rye." Here are more on the specifics from those behind it:
Must conform to the New York Farm Distiller (Class D) requirement that 75% of the mash bill be New York grain; in this instance that 75% MUST be New York State-grown rye grain, which may be raw, malted or a combination.
The remaining 25% of the mash bill may be composed of any raw or malted grain, New York-grown or otherwise, or any combination thereof.
Distilled to no more than 160 proof
 Aged for a minimum of two years in charred, new oak barrels at not more than 115 proof at time of entry.
Must be mashed, fermented, distilled, barreled and aged at a single New York State distillery in a single distilling season (The period from January 1 through June 30, is the spring season and the period from July 1 through December 31 is the fall season.)
A blended whisky containing no less than 100% qualifying Empire Rye whiskies from multiple distilleries may be called Blended Empire Rye.
Plans call for an initial range of rye whiskeys to be released this week by the founding distilleries which meet the guidelines. While details were a bit scarce on some of the bottlings when we went to press with this, at least two distilleries had put forth some information on their expressions. We know, for example, that the Kings County Distilling offering is a straight rye whiskey "made from 80% New York grown rye and 20% english barley malt and [it] is aged 2 years in charred oak" that's being "released at 102 proof."

It will be exciting to see this new standard emerge out of New York. Perhaps it will spawn some other regions in the US as well to craft their own processes. A Minnesota rye? A California bourbon? We look forward to what might be next.

Irish Distillers, maker of Method...
Nino Kilgore-Marchetti is the founder and editor-in-chief of The Whiskey Wash, an award winning whiskey lifestyle website dedicated to informing and entertaining consumers about whisk(e)y on a global level. As a whisk(e)y journalist, expert and judge he has written about the subject extensively, been interviewed in various media outlets and...