Chattanooga Whiskey, headquartered in Chattanooga, Tennessee, for some time has sought to release whiskey made on site. It began sourcing from MGP at first after being founded in 2009, and while doing this worked to get laws changed locally so it could distill. This eventually happened, and now the distillery is set to release its first Chattanooga-made and aged, single-batch spirit, known as Experimental Series Batch 001.
Chattanooga Whiskey Experimental Series Batch 001, according to those behind it, is described as a Tennessee High Malt whiskey. What does this mean exactly to them? In the mash bill, what you've got here is 75% non-GMO, stone ground yellow corn and 25% malted grains, including rye malt, caramel rye malt and honey malt. This mash bill went through a fermentation period of six to eight days and was distilled on a 100 gallon pot still before being double barrel aged – over two years in toasted and charred, 25-gallon Kelvin Cooperage barrels and then finished in 53-gallon, ex-Chattanooga Whiskey 1816 barrels.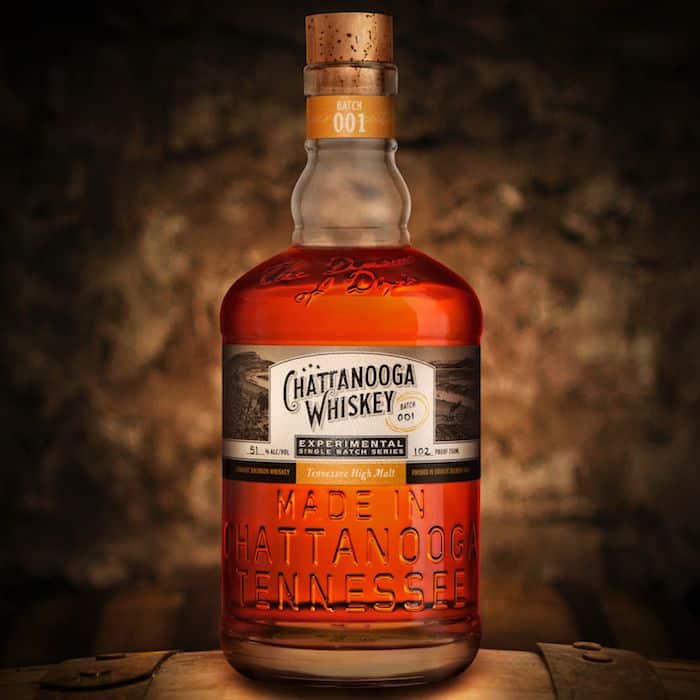 "Tennessee High Malt is our future," said Chattanooga Whiskey founder Tim Piersant in a prepared statement. "It is the embodiment of our complex history and drives quality and complexity to a new level. Batch 001 is the first experimental representation of Tennessee High Malt, and thanks to the Chattanooga Whiskey Experimental Distillery, our EXP Series will showcase our ability to explore the variety of complex flavor profiles we can achieve through product and process. I believe we have the most unique fusion of history, company culture, and distillery experience in the country."
We fought through century old laws and constant turmoil to make something that is unapologetically ours, and something that we believe is the best version of ourselves. Now, we're making thousands of barrels of it at our Riverfront Pkwy Distillery. After 6 years of fighting for what is good, better, and right, Chattanooga Whiskey is again changing the rules."
Plans call for Batch 001 to be available at the distillery and select retailers throughout Tennessee and Georgia. It will be followed by Batch 002 and 003 sometime this fall. Very limited official tasting notes suggest hints of "maple syrup, molasses, cinnamon, fruit cake and dark honey." It was bottled at 102 proof.

Editor's Note: This RTD was...
Nino Kilgore-Marchetti is the founder and editor-in-chief of The Whiskey Wash, an award winning whiskey lifestyle website dedicated to informing and entertaining consumers about whisk(e)y on a global level. As a whisk(e)y journalist, expert and judge he has written about the subject extensively, been interviewed in various media outlets and...