American food and wine is sometimes criticized by Old World Europeans for its tendency to blend techniques and tastes to create unique variations on established themes.
But when it comes to whiskey, especially bourbon, we're positively priggish when it comes to standards, rules and inviolable regulations. And no American standard is tighter and tougher than Bottled-in-Bond.
The term is tied to the Bottled-In-Bond Act of 1897, a piece of legislation originated by distillers to reduce the marketing tomfoolery of unscrupulous distributors, rectifiers, and hucksters who made upscale claims about downscale liquors. Knowing such a law could increase tax revenue by reducing illegal moonshining, the federal government, in a rare moment of cooperation with private businesses, signed off on the act.
In his seminal book, Bourbon Straight, author Chuck Cowdery summed up the Act's effect nicely: "Although the Act did not guarantee quality, only authenticity, bottled-in-bond quickly became a watchword for 'the good stuff.'"
Here's why: Bottled-in-Bond whiskey (could be corn, rye, bourbon, brandy or American whiskey, though I have no modern example of the latter) must be distilled in one distilling season (a single calendar year), at one distillery, by one distiller, aged four years in a bonded (i.e. government monitored) warehouse, and bottled at no less than 100 proof (50 percent ABV). The label on every bottle of Bottled-in-Bond (let's shorten it to BIB henceforth) had to bear the Distilled Spirits Premise (DSP) number, the location of that distillery and, if different from that site, where it was bottled.
How's that for strict in an industry where a lot of sourcing, blending, flavoring, coloring, and rectifying happens behind the curtains at even the finest distilleries?
The rise of Bottled-in-Bond in cocktails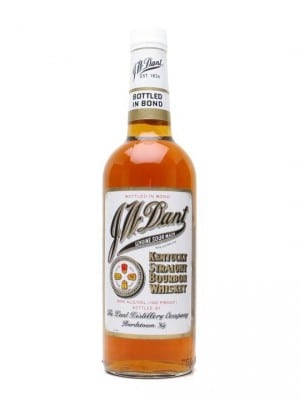 Fast forward about 110 years to the rebirth of the American cocktail, when mixologists were learning the crucial balance of flavor, ingredients, and cost. A well-made cocktail gives at least half its attention to the base spirit, but as bartenders were learning, spirits with proofs lower than 100 have a hard time muscling through sweet and bitter amendments, especially fortified wines, liqueurs and amaros. (I learned this lesson firsthand when judging a cocktail contest sponsored by an 80-proof spirit. The winner was a sage competitor who knew the spirit had to lead the way, and so he pumped up the volume by adding three ounces of bourbon to the drink. That's at least double the standard amount his boss would have preferred back at the restaurant.)
According to Heaven Hill whiskey ambassador Bernie Lubbers, the first BIB used widely by mixologists service was Rittenhouse Rye. "Rye was going through its renaissance when there weren't many ryes out there, not to mention many at 100 proof," Lubbers said. Rittenhouse was a brand with a story, that of being on retailers' shelfs since after Prohibition, plus it was affordable. "Ryes were going for $10 to $12 a bottle, which makes the cost favorable in a drink. … You don't put E.H. Taylor (BIB) rye in a cocktail because it's too expensive for that."
BIB bourbons (of which fewer than 10 are widely available in the U.S.) were soon swept up in the cocktail craze because they delivered all the right bourbon flavors, a bit of sting, and plenty of barrel notes. Easily detected in a good drink, BIB bourbons were also affordable. Again, Lubbers said the right role for BIB whiskeys is in cocktails.
"You don't need Elijah Craig in a cocktail when you can do the job with a Bottled-in-Bond base spirit," he said. "When you're going to put sweet vermouth, muddled fruit and other modifiers in the drink that will cover up 12 years of age—why do that? Bottled-In-Bonds don't mess with the cocktail, they become part of it."
Despite Lubbers championing BIBs for cocktail use, he's not against sipping them in casual situations, "like when you've got a good beer in one hand, you're watching football and you've got a whiskey back. I do like them like that on occasion."
The lone drawback to BIBs is finding them. Heaven Hill makes more than any U.S. distiller, but not all its BIBs are available in every state. Evan Williams, Henry McKenna 10-year-old, Mellow Corn, and Rittenhouse can be found anywhere, but Heaven Hill's 6-year-old, Old Style white label BIB (my personal bargain favorite at $10 per 750ml) is available only in Kentucky. With the help of Lubbers, I've cobbled together a short list of some others worth searching for.
J.T.S. Brown BIB (Heaven Hill). Light and simple, but not my fave.
Old Grand-Dad BIB (Jim Beam). Not a sipper for me, but OGD fans I know love it. Recently discovered it's super in a Manhattan.
W. Dant BIB (Heaven Hill). I found it flavorful, but a little soft; drank like a 90 proof.
Very Old Barton BIB (Thomas Moore-Sazerac). Cowdery refers to this in "Bourbon Straight" as a favorite bargain drinker. I found it good, but a tad dried-fruity.
Old Fitzgerald BIB wheated (Heaven Hill). Sometimes you find a spirit that reveals more character after half the bottle is empty and the air changes it some. This softie got much more complex after a rest on the shelf. I recently saw it priced at $35 for a 1.75ml handle. Huge bargain.
Jim Beam BIB. Definitely falls into the "cocktails preferred" category. Not fond of it as a sipper.
Old Tub BIB (Jim Beam). A Beam rep told me Tub was just Beam BIB, and so I did a side-by-side comparison. I concluded that the two were different and that Old Tub was far better. Nice sipper and dandy in an Old Fashioned. Only bad news is it's available only at the Clermont, Ky., visitors center.
Henry McKenna 10-Year-Old Single Barrel BIB (Heaven Hill). Sipper only and, to my palate, another whiskey whose flavor "expands" with some room in the bottle.
E.H. Taylor Single Barrel BIB Bourbon and Rye (Buffalo Trace). Pricey and precious. Great stuff. Sippers first, but letting that rye hammer through in a Manhattan is a treat.
David Nicholson 1843 (David Sherman/Luxco). Never had it, never seen it. Will start looking for it.
William Heavenhill BIB (Heaven Hill). Freaky good and darned expensive. This 9-year-old will set you back $130 a bottle, and it's only found at HH's gift shop.
Old Forester 1897 Bottled in Bond (Brown-Forman): In a word, fantastic. If you've ever had OF Birthday, you'll recognize this delicious second cousin.

New York's Black Button Distilling...
Steve Coomes is an award-winning journalist and book author specializing in whiskey and food. In his 30-year career, he has edited and written for national trade and consumer publications including USA Today, Southern Living, Delta Sky Magazine, Nation's Restaurant News, Pizza Today, Restaurant Business, Bourbon + and American Whiskey magazine....