When you think of Canadian identity, what comes to mind? There's hockey, maple syrup, pristine wildernesses, and, of course, there's the extended legacy of Canadian whiskies (note that Canadian whisky is spelled like the Scottish sort – a throwback to the country's colonial history).
Now, oftentimes folks will raise an eyebrow at Canadian whiskies, associating the whole multilayered industry with bottom shelf brands like Seagrams. But certainly there are plenty of gems that have arisen over the country's several-hundred year distilling history. Our question for today is whether Lord Calvert Canadian Black Whisky gets to join its upper ranks, or whether it belongs closer to the unswept floors of your neighborhood liquor store.
Certainly, if nothing else, Lord Calvert Canadian Black wants you to know that, before and above all else, it is a Canadian whisky. I count on the bottle the word "Canadian" listed no fewer than 20 times (21 if you count the website url). So at least we can come into this review feeling relatively confident on that detail… right?
Well, of course, in the the twisted world of whiskey labels and distribution companies, nothing's ever quite so simple. For instance, Lord Calvert was originally an American brand distilled by a company called Maryland Distillers Inc. The colony of Maryland was founded by one Baron George Calvert in 1632, thus the relevancy of the liquor branding. Canadian corporation Seagram bought Maryland Distillers in 1934, made some questionable decisions in the intervening years, and eventually sold off many of its rights, including the Lord Calvert line, to Jim Beam in 1991, which eventually, in turn, sold the brand (among others) to Luxco in 2013 for a hefty $65 million dollars.
Phew. Confused yet? The point of raising all of this up is that any brand's claims to heritage or tradition, especially in the whiskey industry, should certainly be taken with a few thousand grains of salt.
So what can we say for certain about the whisky while staying away from any lineage questions? Released just this past spring, Lord Calvert Canadian Black joins Spiced Peach as the newest offerings from the company. As per the label (and Canadian law), the whisky has been aged for a minimum of 36 months, and is, quote, "a blend of choice matured whiskies." At the time of this article's publication, both Lord Calvert and Luxco's websites are pretty absent of any real information about the product (the Lord Calvert website has no mention of the whisky at all). So it looks like to get to the bottom of this black bottled blend, we might just need to jump straight into the testing.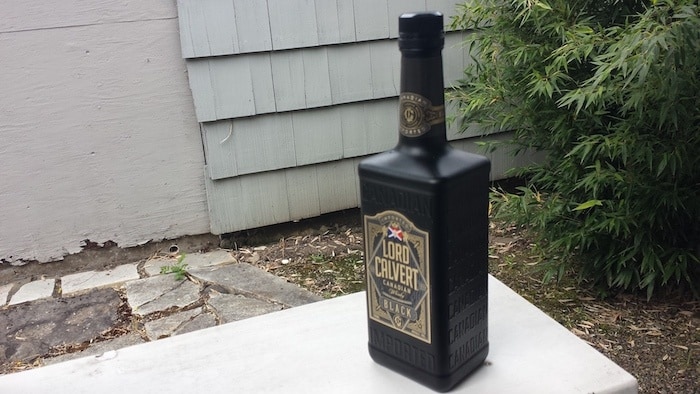 Tasting Notes: Lord Calvert Canadian Black Whisky
Vital Stats: The Lord Calvert Canadian Black Whisky comes in at 80 proof, and is sold in a 750 ml glass bottle with a plastic screw top. A blended mix, the bottle advertises the whisky as aged for 36 months. The bottle sells for approximately $13 dollars.
Appearance: In the glass the Lord Calvert Canadian Black is a honey amber. The bottle is made of black burnished glass upon which the word "Canadian" is featured – according to this writer's modest opinion – too many times.
Nose: The nose is sweet, but a little off… think clover and cough medicine. Part bubble gum, part hand sanitizer.
Palate: Quite the interesting flavor profile, though not one I'd generally expect coming from a whisky. There's definitely that bubblegum/cough medicine flavor that came across in the nose… add to that a bit of cotton candy, black liquorish, and a hint of cardamom. It goes down smooth, but a lingering bitterness alongside the saccharine sweetness leaves me wanting to rinse my mouth out afterwards.
The Takeaway
Is there a government board somewhere that steps in to make sure all things claiming to represent Canada actually leave a good impression? Because, if so, I think someone's dropped the ball here. The nose and palate really put me off on this one – too sweet without much by way of redeeming qualities. While the price point looks nice on paper, this is not a whisky I'd recommending sharing with friends as a poster child for Canadian whisky greatness.

Filmland Spirits, founded in 2020,...