The Glengyle Distillery is the newest Scotch distillery in Campbeltown. It is also, paradoxically, among its oldest.
The original Glengyle distillery was founded in 1872 by William Mitchell, but its roots go back deep into the storied history of whisky production in the Kintyre peninsula and are closely intertwined with the history of the Springbank Distillery and the Mitchell family. Hence the typical description of the distillery as "the newest, old distillery in Campbeltown."
Sometime around the 1660s, the Mitchell family moved from the Lowlands to Campbeltown and began illegally producing whisky. Nothing more is heard of them until, in 1825, Archibald Mitchell became a partner in the existing Riechlachan Distillery. Three years later, in 1828, the Reid family, in-laws to the Mitchells, organized the Springbank Distillery on the site where Archibald Mitchell had been operating an illicit still. Springbank became the 14th licensed distillery in Campbeltown.
In 1837, Archibald Mitchell's sons, John and William, took over the ownership of the Springbank Distillery from the Reids. John and William eventually fell out, and William left and joined the Riechlachan Distillery. In 1872, he founded, right next-door, the Glengyle Distillery. It was the third to the last distillery built in Campbeltown.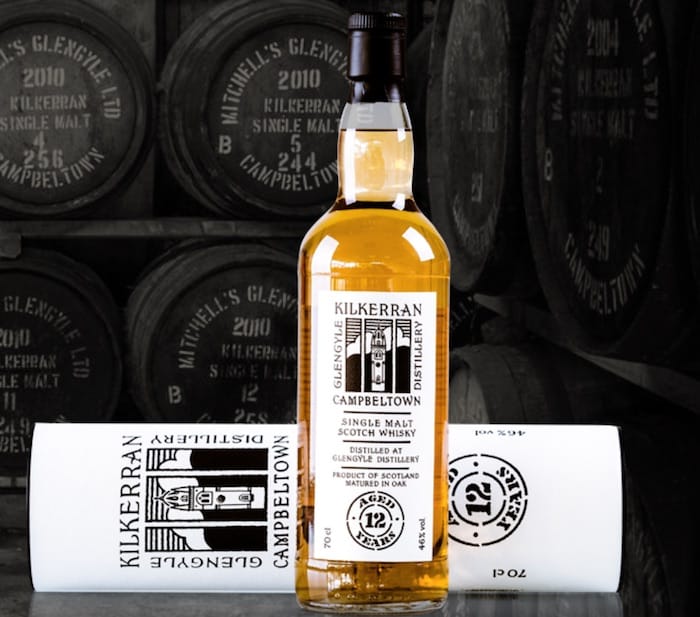 The original distillery was small, located on just a two-acre site. Alfred Barnard in his epic 19th century survey of the Scotch whisky industry described it as having two malt barns, six 6,600-gallon washbacks, two medium-sized pot stills, and three warehouses holding about 2,000 casks. Its annual output was 90,000 gallons. It had 14 employees.
During this same period, Mary Mitchell, Archibald's sister, built Drumore Distillery. At their peak, the Mitchell family had interests in four different distilleries in Campbeltown. In 1897, John Mitchell brought his son Alexander into the business and organized J & A Mitchell. That company still exists, and is today owned and run by Hedley Wright, the great, great grandson of Archibald Mitchell.
The downturn produced by the Pattison crash was further aggravated by World War I-imposed restrictions on the amount of grain available for distillation, as well as limits on alcohol consumption. William Mitchell sold the Glengyle Distillery to West Highland Malt Distilleries in 1919, a consortium of Campbeltown distillers (Ardlussa, Dalintober, Glen Nevis, Glen Scotia and Kinloch). Six years later the distillery was closed. Several owners came and went, but none succeeded in restarting operations.
In November 2000, some 75 years after the original Glengyle distillery had been shuttered, J & A Mitchell announced that it had organized Mitchell's Glengyle Ltd to acquire the original distillery and put it back into operation.
Two stills, originally from the Ben Wyvis Distillery, were adapted and installed in the distillery. The shoulders of the onion-shaped stills were rounded and, more importantly, the lyne arms were given an upward slant in order to produce a lighter, fragrant, whisky. The mill was bought from the Craigellachie Distillery in Dufftown. All other equipment was purchased new. The distillery began production in March 25, 2004, making it the first new distillery in Campbeltown in 125 years.
Mitchell's Glengyle was unable to purchase the rights to the Glengyle brand from Loch Lomond, who had ended up with it when they purchased Glen Scotia, so they opted to create a new brand, "Kilkerran." The word "Kilkerran" is derived from the Gaelic Ceann Loch Cille Chiarain (head of the lake of St. Kieran's cell). This was the name of the original settlement founded by Saint Kieran. It's believed that the town of Campbeltown now sits on that spot.
The first release was in 2007. Subsequent releases, called "Works in Progress," have been released since. Each release has numbered 9,000 bottles and sells out almost immediately. The distillery has experimented with sherry, rum and port cask finishes. It has also experimented with triple and quadruple distillation, and with various peating levels. Early on it was peating its malt to around 45 parts per million (ppm), but currently it is peating to about 8-10 ppm.
The release of Glengyle's first 12-year-old whisky has been announced for August 12, 2016.
Vital Stats: 46% ABV, a blend of 70% first fill ex-bourbon cask and 30% sherry cask aged whisky.
Appearance: It has a warm, light gold color.
Nose: On the nose there are dry honey notes with persistent floral aromas followed by hints of butterscotch, dry heather and some cereal/short bread elements. There is also just a hint of brine, like a warm summer sea breeze. With a little water some of the sherry inspired dried fruit notes become more noticeable.
Palate: On the palate it has a creamy texture and a more substantial mouth feel than its appearance would suggest. There is pepper, but with a bit of sweetness, as in a sweet chili spread or a pepper infused marmalade, followed by slight citric notes and elements of cinnamon spice and vanilla. There are also hints of smoke and light medicinal notes. The finish is long, with a distinctive dry pepper capsaicin quality set against a slightly sweetish background note. The combination of vanilla notes and dry pepper give the whisky a bit of an old fashioned gingersnap character.
Conclusion:
This is an excellent whisky, combining nuance and complexity with a light, fragrant style. The peating levels of the malt used in this whisky are undoubtedly higher than the peating levels currently used. Peated malts that are distilled with lots of reflux are often notable for a dry, peppery quality.
This style, very much in evidence here, leaves only faint traces of the medicinal/iodine/phenolic character of heavily peated malts. The smoke, while noticeable, is less pronounced and just sort of lingers in the background. This combination of sweetness and dry pepper, combined with a light, fragrant whisky, makes for an excellent aperitif and will also blend well in mixed drinks. The perfect whisky when you want a hint of Islay malt without being blown over.
FINAL SCORE: 90/100

Editor's Note: This whiskey was...
Joseph V. Micallef is a historian, best-selling author, keynote speaker and commentator on wine and spirits. He is a member of the National Speakers Association and has also appeared on a variety of broadcast venues including, CNN, Fox News and Fox News Radio. He has frequently spoken on the history...