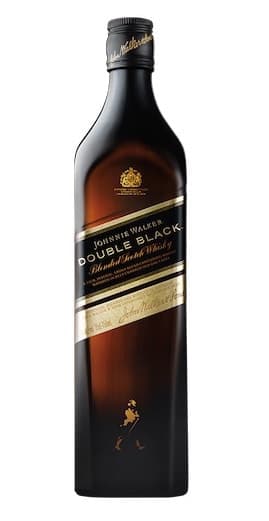 Editor's Note: This whisky was provided to us as a free sample to review by the party behind it. The Whiskey Wash, while appreciative of this, did keep full independent editorial control over this article.
We continue our journey upwards through the Johnnie Walker line, pausing this time on Double Black. Officially launched in 2011 after previously being available only in the travel market, Johnnie Walker Double Black is more of a variation on a theme than a wholly distinct whisky within the line.
Alluding to the slightly lower-priced standard Black Label, Double Black is immediately identifiable by its translucent black bottle and additional gold banding below the standard Johnnie Walker Label. The similarities invite comparison, with many wondering what the differences are between these releases.
Double Black can arguably been seen in a similar light to a distiller's edition of a single malt, specifically those offered by fellow Diageo whiskies Lagavulin and Talisker. (Perhaps it would be more appropriate to refer to this as a blender's edition, though fans of Blue Label may take offense.) The central malt and grain components are generally the same as Black Label, as one would expect with the identity of the two whiskies intentionally intertwined. The key differences come into play with the dialing up of the smokier malts in the blend as well as in the use of sherry casks with a deep char which combine to yield a more rich and intense finish in the end product than standard Black Label.
In gaining this noticeable intensity in terms of both smokiness and richness, Double Black sacrifices its age statement. Black Label, by comparison, bears an a 12-year age statement.
Tasting Notes: Johnnie Walker Double Black
Vital Stats: 40% ABV (80 proof), no age statement, blended Scotch whisky, available in the low to mid $40 range per 750 ml bottle.
Appearance: Deep caramel with reddish tones. Medium strong legs.
Nose: Significant oak presence. Notes of plum wine, cinnamon almonds, solvent, vanilla.
Palate: Smoky and sweet. Honey, clove, wood fire smoke, spiced pear, pecan rolls. The sweetness and smoke linger after the relatively short burn. I get notes of cherry cola very late in the finish.
Conclusion:
Johnnie Walker Double Black manages to disrupt the pleasing balance of Black Label while somehow avoiding sending the entire release crashing to the floor. The comparison between this and Black Label rises up each time I find myself in need of a fresh bottle. I enjoy the aesthetic of having both bottles sitting next to one another on my shelf, but I really do not know if I can make a strong argument that would necessitate the casual drinker keeping a space open for each.
In short, if you like Black Label, you will probably like Double Black. If you don't, you probably won't. I think that is essentially what Johnnie Walker and Diageo were aiming for in the first place.

Independent Scotch bottlers The Islay...
When not sampling whiskey, Joshua St. John can most likely be found running the trails of the Pacific Northwest surrounding his home in Portland, Oregon. A lifelong world-traveler, Joshua was first introduced to single malts while visiting distilleries in Scotland, and continues to explore the world through the countless interpretations...