In 1881, the Harvey Brothers erected Bruichladdich distillery on the shore of Loch Indaal, which is situated on the westernmost part of the Rinns of Islay. This original building was constructed from stone salvaged right from the sea shore.
These days, Bruichladdich is no longer a quaint rustic distillery, owned, as it is by the likes of Remy Cointreau, but its whisky includes some of the most varied and exotic releases from Islay.
Adam Hannett assumed the helm at Bruichladdich in 2015, after having spent a decade working there. Black Art 5, his first edition, allowed him to dazzle the world with his wizardry as head distiller.
I feel a bit bad for Hannett that most of the press asserts the recipe for Black Art 5.1 was passed by Jim McEwan, like a torch in the night. This almost seems to heap more praise onto McEwan's shoulders, rather than onto Hannett's…but I guess that's how "The Craft" is practiced, with some degree of deference for retired Head Warlocks. Winning!
As for the recipe of 05.1, Bruichladdich has disclosed that the youngest whisky in the rather large batch is from 1992, making it 24 years old. Aside from this one detail, Hannett shut his recipe book tightly, much to the chagrin of the public's prying eyes. Could there be older treasures in the rather arcane black bottle, adorned with a hexagram?
Oh yeah, I think so, judging by the nose, palate, and finish…but I'm getting ahead of myself. Suffice it to say, Black Art 5.1 runs the gamut through many different cask types, if I am not very much mistaken. This whisky was released this spring.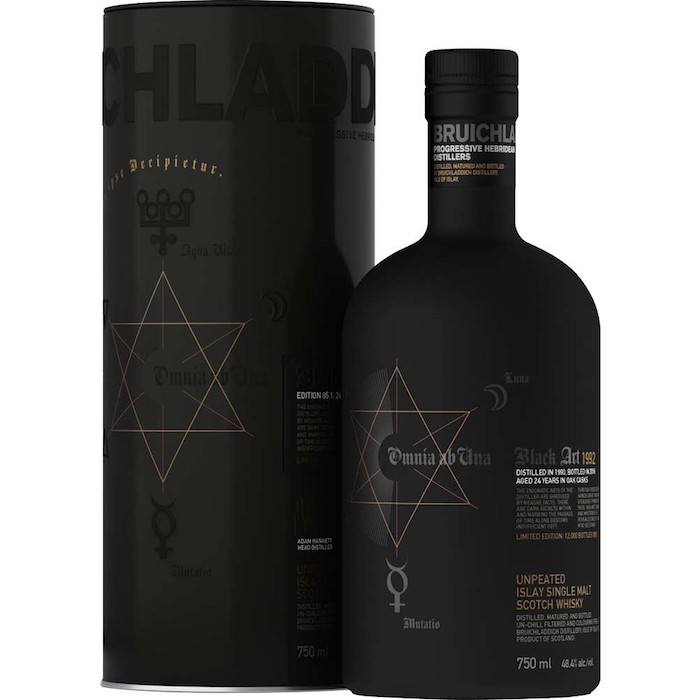 Tasting Notes
Vital Stats: 70 cl; 48.4% ABV / 96.8 proof; 12,000 bottles produced; bottled in 2016; unpeated; American oak and premium wine casks; retails for $290-ish in England, $350-ish in the USA.
Appearance: Burnished cherry wood; Exquisite beading, and supermodel legs. I heretofore dub them Karlie Kloss material.
Nose: One of the better noses I've sniffy-sniff-sniffed in a long while. It's dark, all right. Betwitching, and complex. Double-double, toil and trouble…baby coconut jelly mingles smoothly with the essence of dried fruits like fig, date, and apricot. But there's more…desiccated fruits resurrect themselves as living spirits, freshly plucked in a blanket of dew, from tree or bush.
Plum, orange, raspberry, and champagne grape can be detected. In addition, Herbes de Provence, vanilla bean, oak ester, dark chocolate, and brown sugar rear their pretty heads. Let me catch my breath. Wow. Just fantastic. These non-fruit scents all hang back patiently, like supporting actors, to make the 5.1 a virtuoso performance.
Palate: I'm initially reminded of the old Black Box, higher ABV Highland Park 25 Year Old, which I dearly miss. But this whisky before me is even more rough. Black Art, how do I love thee? Let me count the ways: 1. Delightfully bitter oak tannin from European "premium" wine casks. 2. fruity confection of delight (peach, nectarine, Manila mango, lemon zest). 3. Sappy-sweet American oak. 4. Island heath honeycomb. 5. Marshmallow nougat. 6. Baker's coconut. 7. Grass sap (in a good way). 8. Clover blossom.
As with the Highland Park 25, this baby lingers on and on and on. Honey duels with the slightly bitter oak, along with a tantalizing marshmallowy nougat, which clings to the back of the tongue, ultimately outlasting the rest. Yes, the label on my sample bottle says the oak used in this release is primarily American, but I taste European casks thrown into the mix, as well. In fact, both kinds of wood complement each other quite nicely.
The Takeaway
I tip my top hat in the general direction of Mr. Hannet's office on Islay. He's outdone himself with Bruichladdich Black Art 5.1. I like it better than some of the other Black Arts that I've tasted over the past year at whisky parties, although I must confess that I cannot produce any tasting notes or scores to verify that gut instinct.
As for whether or not you, Dear Reader, will feel the same, that all depends. If you seek out wine-forward experiments . . . well, then this whisky could disappoint. It's far more conservative in its profile than past releases.
For example, Black Art 4.1 contained far more experimental wine characteristics–front and center. Plus, it was less predictable, and yet far more mercurial. In past Black Art releases, Jim McEwan somehow got the wine and the malt to compliment each other, more or less. Well, okay, truth be told, the combination worked better in some versions better than in others.
Now, I am no whisky purist when it comes to decadent, wine-laden cask woods. I do enjoy the unpredictability that can produce excellence through a mixture of knowledge, experience, and serendipity. But I also recognize a great dram when I taste it, even without all of the "high strangeness" that figured a bit more prominently into Jim McEwan's version of The Craft.
As for my take on this new edition, I hold the broth in high esteem–even though I'm not a big fan of pentagrams, at least as they pertain to Saturnian thus-and-such. If you buy a bottle for upwards of three hundred bones, and then end up not liking the stuff, well . . . carpe noctem. To every man, an ego . . . and to every ego, an opinion.
After all, it's not as if I lack experience tasting and writing about heavy weights in the world of single malts. Not long ago, I was shoving my nose into generous pours of Glenfarclas 40 Year Old, Highland Park 40 Year old, and Glenglassaugh 40 Year Old.
User Review
3.12

(

118

votes)

Bowmore's island home of Islay...
Kirk discovered the brilliance of Scottish whisky in 1987 while vacationing in Edinburgh. Over the course of three and a half decades that followed, he's built upon a knowledge of distilleries and the industry, as well as world whisky. Kirk prides himself on speaking honestly while avoiding the usual flattery...