Two years ago when a friend arrived at my home with a bottle of Wild Turkey Diamond, a release created to mark master distiller Jimmy Russell's 60 years with the brand, we were excited. Yet our enthusiasm evaporated quickly when that first taste revealed Diamond was unpleasantly soft and lacking in memorable flavor we'd hoped for. We couldn't understand how the big, bold Wild Turkey flavors we'd sipped for years had disappeared into this velvet smooth rendition of an unassertive, unimpressive whiskey.
Were it not for some terrific private barrel picks shared by friends since then, I'd not have been so excited to have received a review bottle of Master's Keep Decades. But master distiller Eddie Russell's mark on those whiskeys, as well as this one, is not only obvious, but impressive. So much so that I'm anticipating an amazingly innovative and interesting future for this brand, and Russell himself affirmed that in a recent chat about Decades: "I really liked that whiskey, and I'll do another Master's Keep. And it's probably going to be something really out there that Jimmy might look at me and think, what are you doing?"
If it's anything at all like this one, he'll be doing extremely well.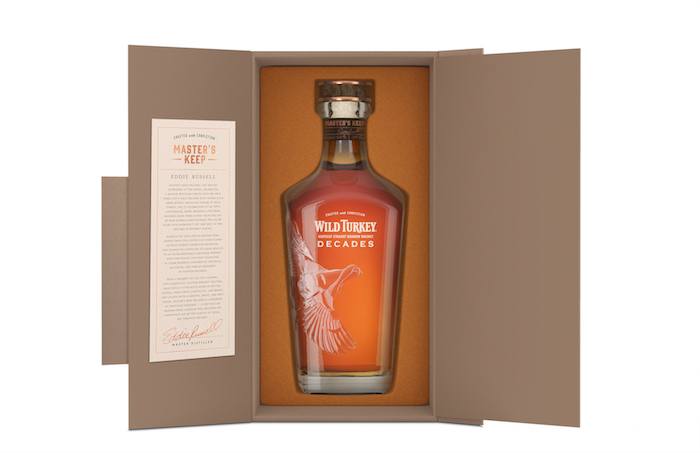 Tasting Notes: Wild Turkey Master's Keep Decades
Vital Stats: Wild Turkey Master's Keep Decades is a non-chill-filtered, 104-proof mingling of barrels ranging in age from 10 to 20 years old. The bottle bears only the signature of master distiller Eddie Russell, further cementing his position has the main whiskey maker at this historic distillery. Its MSRP is $150.
Appearance: In the glass, translucent pecan wood, hinting strongly at its age. A few swirls trigger curtains of thin legs.
Nose: My anchor point with Wild Turkey is traditionally leather tack and tobacco, and this bourbon is right there, but with added manners. A little pause lets cedar, toasted marshmallow, a bit of grassy rye, and white pepper emerge, which adds to the intrigue. No aromas are overpowering here, which hints at elegance and balance.
Palate: Did I say elegance? I did, because it also drinks elegantly. This is Wild Turkey after Cotillion school; the gobbler wearing a tuxedo. All the basics come in, but with nuances: oak becomes campfire and barn wood (there's that leather tack again), cereal grain becomes malty. Fruit becomes a mélange of cooked apple, peach and cherry—almost like a candy version of the three. But it can't be called sweet, because it's not. It's just pleasingly mid-palate fruity. This whiskey is silken front to back, and virtually tannin free. I can't recall the last time I enjoyed a whiskey this soft at this proof.
Final Thoughts and Score:

Wild Turkey's base 101 is and always will be the "kickin' chicken," and I'll always love it—even its coarse edges and an in-your-face flavor that's unmistakable and polarizing. Some like it, some don't. That Eddie Russell has created such a top-notch polar opposite of the brand standard makes a huge statement; not one of departure from the standard of his revered daddy, Jimmy Russell, but a refined one.
This is a pricey bourbon, but one guaranteed not to disappoint any fan of the spirit.

Tickets are now on sale...
Steve Coomes is an award-winning journalist and book author specializing in whiskey and food. In his 30-year career, he has edited and written for national trade and consumer publications including USA Today, Southern Living, Delta Sky Magazine, Nation's Restaurant News, Pizza Today, Restaurant Business, Bourbon + and American Whiskey magazine....