Named after "the greatest German Shepherd who ever lived," OOLA Distillery of Seattle, Washington, started in 2010. OOLA's founder, Kirby Kallas-Lewis, opened OOLA in a 5,000 square foot facility in Seattle's Capitol Hill neighborhood. Currently, OOLA ferments and distills over 200,000 pounds of grain at its Capitol Hill location, and aging takes place a few blocks from the Puget Sound.
Like many craft distilleries, OOLA produces spirits in small-batches using locally sourced grains. In fact, for OOLA's vodka, gin, and bourbon, organic wheat and organic corn come from Waitsburg, Washington. Queuing off the grain source, OOLA dubbed its bourbon line Waitsburg Bourbon. A cask strength version of this bourbon serves as the subject of this review.
Unlike traditional bourbon distillers (although something catching on with some craft distillers), OOLA uses a four-grain mash of corn, rye, wheat, and barley in making Waitsburg bourbon. As mentioned above, the corn and wheat hail from Waitsburg, while the local sources for the rye and barley are not disclosed.
Another interesting twist to the classic bourbon making strategy lies in OOLA's aging process. Many craft distillers embrace small format barrels, usually in an effort to speed up coloration and barrel flavoring of the whiskey. Often times, small format barrels lead to unbalanced flavors, especially dry and bitter tannic notes. However, OOLA wisely ages Waitsburg Bourbon only part of the time in 10-gallon barrels before moving the bourbon to standard 53-gallon barrels. As much as I love writing about whiskey, the important details, on how Waitsburg Bourbon tastes, follow.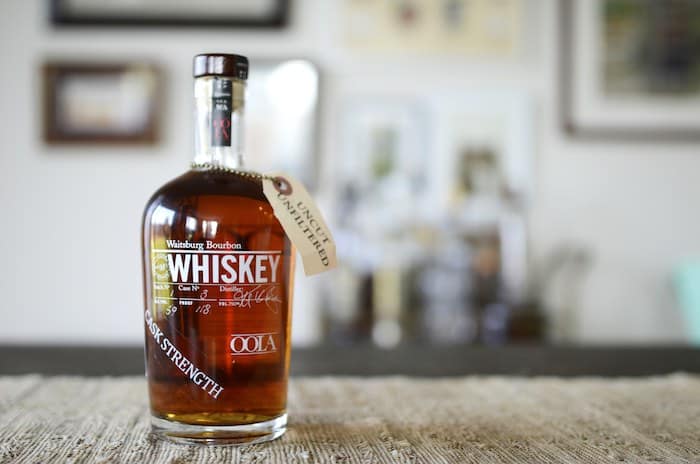 Tasting Notes: OOLA Cask Strength Waitsburg Bourbon
Vital Stats: The subject of this review, batch number one of a limited release of Waitsburg Bourbon at cask strength, clocks in at 118 proof and lacks an age statement. As mentioned above, the mash bill includes locally sourced corn, rye, wheat, and barley. In addition, OOLA implements a two-stage barrel maturation process in which the bourbon initially ages in 10 gallon barrels, and, after a certain amount of time, the bourbon is stored in 53 gallon barrels.
For the cask strength release, OOLA bottles Waitsburg Bourbon without chill-filtration. Based on some online shopping, it appears that a bottle retails in the neighborhood of $70.
Nose: Sweet notes of cracked corn and vanilla dominate the aroma. However, due to the rye grain in the mash bill, and perhaps the small format barrel usage, some very light scents of oak and baking spices layer underneath.
Appearance: For a non-age stated, and presumably rather young bourbon, the small format barrels certainly helped with the color, as the bourbon appears a medium-copper brown in the glass.
Palate: For a cask strength offering, surprisingly soft sweet notes of corn, vanilla, and toffee lead off the front of the palate. In the mid palate, seasoned oak and spice notes begin to overtake the sweet notes and the overall flavor strength picks up significantly. For the finish, seasoned oak, vanilla, and baking spices balance, with the seasoned oak winning out and creating a medium duration dry finish.
The Takeaway
In my experience, aging whiskey in small format barrels often leads to unbalanced and bitter results. However, by aging Waitsburg Bourbon first in small format barrels then moving the bourbon to standard barrels, OOLA avoided many of the downsides to small format barrel aging while reaping many of the rewards. The resulting bourbon strikes a nice balance in seasoned oak and spice notes with the sweeter notes that often get drowned out in small format barrel aged bourbon.
For me, OOLA's cask strength offering easily tops the list of best craft bourbons I have had in recent memory. Overall, the cask strength bottling of Waitsburg Bourbon is worth seeking out by any craft whiskey drinker.

Britain spirits and wine merchant...