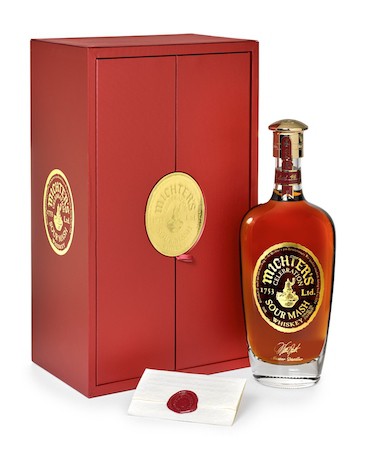 Editor's Note: A sample of this whiskey was provided to us by those behind it. The Whiskey Wash, while appreciative of this, keeps full independent editorial control over this article.
A mantra preached regularly by Joe Magliocco, president of Michter's American Whiskeys, is to make the finest whiskeys possible regardless of cost. His cost, that is, not customers'. The bulk of what the brand bottles is relatively affordable, especially in a whiskey-crazy world where some secondary market prices rival the cost of an enviable honeymoon.
Yet once in a great while (twice in three years to be exact) Michter's turns the price needle towards customers and lets them decide whether they want a serious luxury item like its Celebration Sour Mash Whiskey—regardless of cost. The 2013 release, a blend of 20 to 30-year-old barrels of whiskeys chosen by master distiller Willie Pratt, came with an asking price of $4,000 for each of 273 bottles. This year's release, a mingling of six bourbon and rye barrels also picked by Pratt, yielded 256 bottles to be sold for $5,000 each.
Since press samples of such pricey whiskey aren't bottled, I asked Magliocco if he'd let me visit the distillery for an in-person tasting for a review. Permission was granted, and the tasting was set up with vice president and master distiller, Pamela Heilmann, and vice president and master of maturation, Andrea Wilson.
I suppose I was surprised to see the bottle still in its luxurious red package, unopened. Sensing I'd assumed that even one bottle of Celebration had been violated at the distillery, Heilmann joked, "It's not like we get to sit around and drink all day—especially special things like this."
Heilmann removed the bottle and, to my surprise, slid it toward me saying, "Well, go ahead, open it." I poured my share of expensive wines as a server years ago, but none with a price tag comparable to this. So with likely too-obvious care, I twisted the hefty gold metal stopper to break the tax seal and remove the cork. Instantly, floral notes and aromas of dried fruit filled the space between the three of us. After pouring each of us a modest taste (perhaps 1 oz.), we got down to nosing.
Vital Stats: Blend of six rye and bourbon barrels ranging in age from 10 to 33 years (the rye was the oldest); bottled at 116 proof. No details on the mash bills of those whiskeys. Suggested retail of $5,000 per 750 ml bottle.
Appearance: Amber-to-burnt orange in the glass, the color of bruléed sugar. A few swirls in a Glencarin reveal little initially, but additional spins coax out thick, widely spaced legs.
Nose: Initially leads with dried fig, dark brown sugar, caramel, milk chocolate, and tobacco. Soon after, classic notes of orange, cocoa, cherry wood, cigar box and peach appear. Given a minute's rest, toasted oak and marshmallow comingle to become s'mores. For a 116-proof spirit, it's not overly vaporous, a real joy to nose.
Palate: Dark caramel leads on entry, followed by cocoa, orange, vanilla and hints of tobacco, nearly mirroring its aromas. A bit of heat arrives at mid-palate mingled with slightly assertive grain notes (the 33-year-old rye having a say), pronounced but balanced oak and milk chocolate revisit with grassy rye on the finish. Though highly flavorful, it's a bit lean bodied, but that's consistent with the house style of Michter's whiskeys. Expectedly, the finish is robust with oak and a little grain; short lived, but pleasantly warm.
Final Thoughts and Score/Buy a Bottle:
Score: 95/100

Truthfully, it's hard to sip a $5,000 bottle of whiskey without thinking, "I'M SIPPING A $5,000 BOTTLE OF WHISKEY!" and not letting that influence the score. Long story short, this is an exceptional sipper that delivers a complex collage of flavors and aromas that I don't recall enjoying in any other. Depending on your preference, this is the Cary Grant (my wife's choice) or the Grace Kelly (my choice) of whiskeys, a pour of indisputable elegance, structure and balance.
It's also a whiskey bearing some history because it's Pratt's last pick. En route to retirement, the lifelong whiskey man became master distiller emeritus in September. So, the selection of the next Celebration will be up to Heilmann and Wilson, an endeavor that makes them grin to consider.
"Willie really outdid himself on this one, and this is his last release," Heilmann said with the expected gravitas. "But we're both looking forward to doing the next one."
So, with all the history and flavor and aromas listed here, why doesn't Celebration get a perfect score? Because I only got one shot at it, and an understandably small one at that. For me, reviewing a spirit fairly requires multiple, larger tastes, time for the whiskey to linger in the glass, even get some air into the bottle. Sometimes spirits improve over a few weeks' tasting, other times not. So, to be fair to other whiskeys reviewed here under more extended scrutiny, a fractional deduction is in order.
Still, I say it's Grace Kelly in a glass.

The Florida Craft Spirits Association...
Steve Coomes is an award-winning journalist and book author specializing in whiskey and food. In his 30-year career, he has edited and written for national trade and consumer publications including USA Today, Southern Living, Delta Sky Magazine, Nation's Restaurant News, Pizza Today, Restaurant Business, Bourbon + and American Whiskey magazine....