Maryland rye whiskey is back!!
Wait, what's that, you never knew Maryland rye whiskey was a thing? It's okay. Even the people that know all there is about Maryland rye really don't know all that much. The mash bill and other aspects of how it was made remain a mystery. It is said to have been a rye sweeter in taste and lighter in mouthfeel. While you can never be certain, this would make one think Maryland rye perhaps utilized a sweet mash, rather than sour mash, while using a high percentage of corn in the mash bill.
All this being said, right in the midst of Maryland rye experiencing a revival, the first straight rye to be produced within Baltimore City for over 50 years is actually made more in the style of Pennsylvania rye. The Baltimore Whiskey Company Epoch Straight Rye Whiskey is made in the heart of Baltimore City in a neighborhood between Druid Hill Park and Johns Hopkins University.
The early days of whiskey saw Pennsylvania and Maryland ryes begin to distinguish themselves as distinctive styles of rye whiskey. Pennsylvania rye is better known to some by a different name, Monongahela (MO-non-gah-HEEL-a) rye, and has a deep-rooted connection to the history of the United States. This style of rye is the drink that led to the Whiskey Rebellion in the early 1790s. Whiskey Point in Monongahela, Pennsylvania was the site for negotiations during the Rebellion and is thought to be the origin of the style's name. "Mon City," as the locals have taken to calling it, still exists as a tiny, scenic town about a 45-minute drive from downtown Pittsburgh.
Due to myriad factors, most notably Prohibition and World War II, Maryland rye fully died off for a period of at least 40 years. Pennsylvania rye proved only slightly more resilient, disappearing for a period of just under 30 years. For geographical reference, the Monongahela River flows north from West Virginia to meet with the Allegheny River in Pittsburgh and together they form the Ohio River. Monongahela rye is typified by being a two grain that is 80% or higher in rye content with the remainder usually being malted barley.
The Baltimore Whiskey Company Epoch Straight Rye Whiskey has a mash bill of 70% rye grain and 30% rye malt. This high malt mash bill and lack of corn is what makes this Maryland-made rye more like a Monongahela. Epoch Straight Rye Whiskey won Gold at the 2018 New York International Spirits Competition and thus far has released two batches, both since March of this year.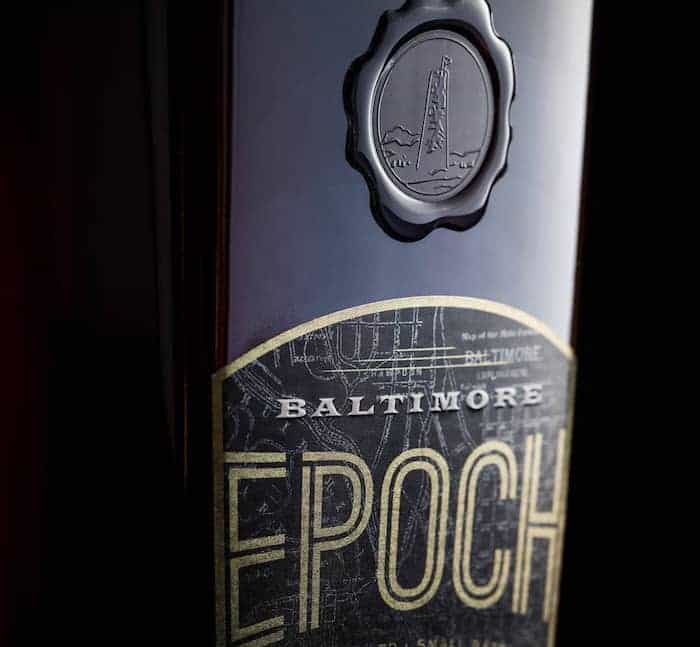 Tasting Notes: The Baltimore Whiskey Company Epoch Straight Rye Whiskey
Vital Stats: Straight Rye Whiskey aged minimum of two years in 53-gallon new charred American oak barrels. Made from 70% rye grain and 30% rye malt and bottled at 50% abv. Double pot distilled. Sold for $50 at the distillery in 750ml bottles.
Appearance: Copper in color.
Nose: Lots of wood with chocolatey-spice. Malt can easily be detected on the nose, adding a touch of creaminess. Smells young, but pleasant.
Palate: Packs more flavor than nose would lead you to believe. Cinnamon initially comes off assaulting but gives way to nectarine before becoming unbearable. The young rye grains can be detected in the astringency on the finish but the high malt adds a pillow-like affect to keep it well balanced for such a young whiskey.
The Takeaway
For what it is, a mostly two-year-old rye whiskey, The Baltimore Whiskey Company Epoch Straight Rye Whiskey stands out. It is hard to impart this much flavor into a whiskey so young. It is great the distillery made all the juice themselves and I am excited to see what they release in the future. Epoch Straight Rye, for me, is a rye meant to be drank in the height of winter. Could be interesting to play around with in cocktails, as well. If one were to ever find oneself in Baltimore, The Baltimore Whiskey Company Distillery seems to be a good spot to check out.

Britain spirits and wine merchant...
Forrest is involved in several aspects of the whiskey industry. In addition to writing for The Whiskey Wash, Forrest teaches classes related to all styles of whiskey and is Brand Ambassador of the West Coast & Kentucky for Joseph Magnus Distillery. Prior to all this Forrest was Whiskey Advisor at...