Colorado's distilling scene is booming thanks to the past twenty years of relaxing state legislation on breweries and vintners and a population thirsty for more options. The state boasts more than 130 breweries and 50 distilleries, ranking second and third in the country by sheer number. Creative methods, farm-to-bar sourcing and a willingness to experiment are fueling the craze and helping upstart distilleries distinguish themselves from larger, corporate operations.
An innovator on the crest of Colorado's craft distilling wave is Deerhammer Distilling Company, located in Buena Vista, Colorado. They claim their methods are "infused with curiosity and creativity," that they have the "same adventurous spirit" as the Arkansas River flowing through town.
It's a good line and seems to be working for founders Amy and Lenny Eckstein. "My first batch was disgusting, but I took that as a challenge. I've always liked sucking at things because you can only get better," says Lenny, the artist behind Deerhammer's releases. It's this attitude, willingness to try and fail that is moving Colorado's distilling trend forward in all kinds of interesting directions.
Certainly, their new release is a step forward. A far cry from the now out of play smoke bomb Down Time Single Malt Whiskey, Deerhammer's newer offering, American Single Malt Whiskey, has evolved.  The bold Down Time style has been refined and replaced by an interesting combination of better-balanced flavors, and a new, more sophisticated label.
In addition to this release, Deerhammer Distilling Company also makes Whitewater Whiskey (unaged), Dutch Style Gin, and Buena Vista Brandy, all in small batches by hand, from milling to bottling.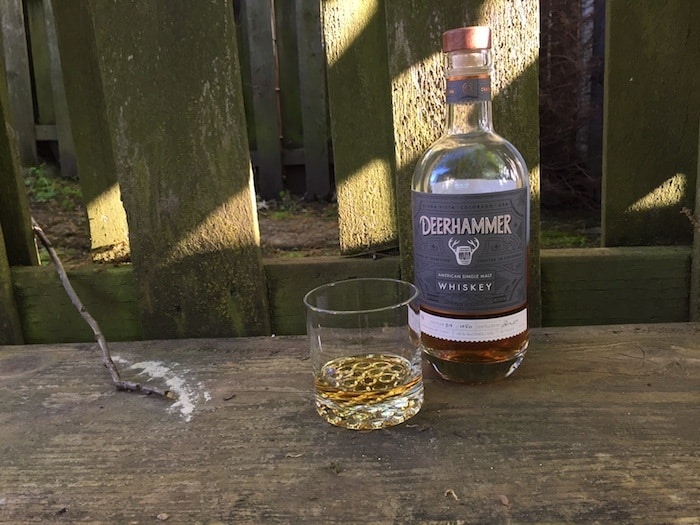 Tasting Notes: Deerhammer American Single Malt Whiskey
Vital Stats: This whiskey is bottled at 92 proof, starts from porter-style 100% malted barley, then open-air fermented and double distilled in direct-fire copper pot stills, and finally aged in "charred virgin white oak casks." It retails for $45.99 – $50.00.
Appearance: The marigold color of this spirit is tinged with a deeper cola, with nice, well spaced and slow moving legs in the glass.
Nose: Appealing aromas of creamy vanilla and butterscotch compliment orange Jello and cough drop, with a refreshingly earthy peat, fennel, and spearmint undertone.  It's not heavy, the smells are working in concert, not competition, creating an overall impression of wild outdoors, like a sunny riverbed.
Palate: Complex, yet not overwhelming, this single malt is orangey, quite spicy, braced by cocoa, and coffee bean. There's a gushy, yummy richness of vanilla, cream soda, and butter, followed by a lingering finish. It's delightfully almost bitter in the middle, with just perceptible moss, menthol, and celery. Overall, a very interesting spirit, well balanced, and unlike many whiskies with similar characteristics, not sweet.
The Takeaway
After trying both the old and the versions of Deerhammer Distilling Company's Single Malt whiskies, I'm interested to see what they try next. At this price point, the American Single Malt is absolutely worth a taste…or two.
User Review
3.27

(

15

votes)