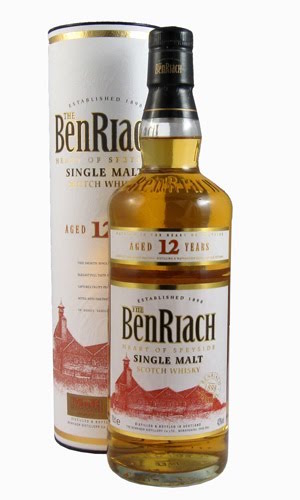 I don't know how many times I have had the discussion as to whether The Godfather is a better film or novel. It seems to come up every few years and I do not imagine either side decisively winning out in the foreseeable future. During the most recent go around, my mother chimed in on the side of the book being better, if only just a little. Later in the conversation, she leaned in and asked me if she could borrow my copy of the novel, realizing she had not in fact ever read it.
Now, I am not comparing The BenRiach 12-year-old single malt scotch whisky to what is arguably either Francis Ford Coppola's or Mario Puzo's most successful work. Rather, I found myself in a similar situation when I was assigned a bottle which had seemed so familiar, yet was a total stranger to me. I have somehow skipped over The BenRiach during my whisky travels. This is a slight on my part which I am only too happy to remedy.
The BenRiach Distillery is located in Speyside and offers a wide variety of Scotches under their own label, while also owning the GlenDronach and Glenglassaugh distilleries. This 12-year-old expression is currently listed in the archive section of the BenRiach website, while their Flagship Range currently includes 10-, 16-, 20-year-old, and no-age-statement releases. In addition to this non-peated single malt, the distillery produces variations in collections such as Peated, Wood Finishes, Premium Expressions, and Limited Releases.
Tasting Notes:
Vital Stats: 46% ABV (92 proof), 12 years old, 100% malted barley, $40-$55 USD.
Appearance: Yellow straw, honey, strong legs.
Nose: Soft butterscotch candy, subtle hints of chocolate and tobacco, with a decent but not overpowering amount of alcohol.
Palate: Bright and sweet, toffee, rum candy, hints of nougat, pepper, lightly oily mouthfeel.
Finish: Clean and crisp. Strong notes of vanilla and fresh ground pepper with an essence of mint towards the end of the medium to long burn.
Conclusion:
The BenRiach 12-year-old single malt is a very friendly introduction to Speyside, and to Scotch whisky overall, with a level of quality which is priced appropriately. The burn is lovely and long thanks to the somewhat higher alcohol by volume, with a peat-free sweetness lasting throughout. While not necessarily one to turn heads in a crowd, this whisky is of good quality, enjoyable, and affordable.
FINAL SCORE: 86/100 

Editor's Note: This RTD was...
When not sampling whiskey, Joshua St. John can most likely be found running the trails of the Pacific Northwest surrounding his home in Portland, Oregon. A lifelong world-traveler, Joshua was first introduced to single malts while visiting distilleries in Scotland, and continues to explore the world through the countless interpretations...