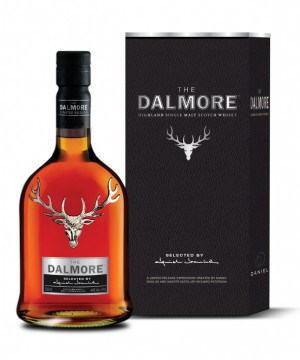 Ask a Scot what a Frenchman knows about whisky, and you might be surprised. If one is talking about the triple Michelin star rated Chef Daniel Boulud (the same suave genius behind several of New York City's hottest places to dine), the answer might just be, "Everything."
In a nod to the nearly 800-year-old tradition of Scottish-French cultural collaboration, Highland whisky's own Dalmore distillers and the famous Daniel Boulud paired up to try and create the perfect whisky. Dalmore brought whisky samples of all ages and cask finishes, Boulud brought his amazing palate, along with those of his top sommeliers, and the game was begun.
Six months of tasting and trials later, three whiskies aged 17-23 years and finished in Madiera, Muscatel and port wine casks, were chosen as the final ingredients of the signature blend. They were rested a further six to eight months in ex-sherry casks to let the flavors well and truly rest and mingle.
The result was diluted to 44% ABV, and first served as a restaurant exclusive to such rave reviews that it was later offered as a one-time release to the public for a retail price of around $200.  Since paired with dinners and desserts by other famous names of the food world, the Dalmore by Daniel Boulud has become the story of whisky's recognition as a true culinary masterpiece.
Tasting Notes
Appearance: Double-digit years resting in wood gives this Dalmore a deep amber color and opulent legs ending in heavy droplets.
Nose: Traditional Dalmore notes of tobacco and heather are undertones here to a more fruit-forward show of pear and honey, cardamom and petrichor.
Palate: The palate is full and deep, dominated by dark chocolate, plum, and lingering spice, with a brilliant warmth playing through the dram, making it difficult to wait for the finish before trying another taste.
Finish: As long as promised, the finish is laced with citrus and an emerging, unforgettable Madiera flavor, with sultanas and praline slowly melting on the tongue.
Conclusion
The making of the Dalmore by Daniel Boulud is a good story – and so is the whisky. Each mouthful offers a complex narrative of time and age, flavor and heat, perfectly balanced with a very, very happy ending. C'est magnifique – or, in other terms, the Frenchman knows his whisky.
Score: 97/100

Duncan Taylor Scotch Whisky recently...
Tish Lester is a former restauranteur whose love of good flavors led her to the world of whiskey, where she is an avid participant, having attended nosings, tastings and master classes throughout Europe and the United States. She has recently discovered the truth that for every moment in our lives,...