Ever wanted to smell like your whisky? Not in the "I've drank all night and feel like hell/it's now coming from the pores of my body" kind of way, but more in the "I like the aromas and notes I smell as I sniff my Glencairn" aspect? If so, blended Scotch whisky brand Monkey Shoulder has a new body fragrance just for you.
What's been dubbed Monkey Musk recently debuted, according to those behind it, offering up a "a limited-edition soft scent of the hard stuff." This translates into meaning that scent notes like zesty orange, vanilla, honey and spiced oak you typically enjoy in your favorite Monkey Shoulder cocktail are the exact scents you should be smelling like when you spray some of this on.
"The process of creating whisky is in many ways similar to a perfumer crafting a fragrance," said Monkey Shoulder Malt Master Brian Kinsman, creator of the Monkey Musk, in a prepared statement. "We both prioritize the quality of elements going into the blend and spend hours perfecting the combination of different notes.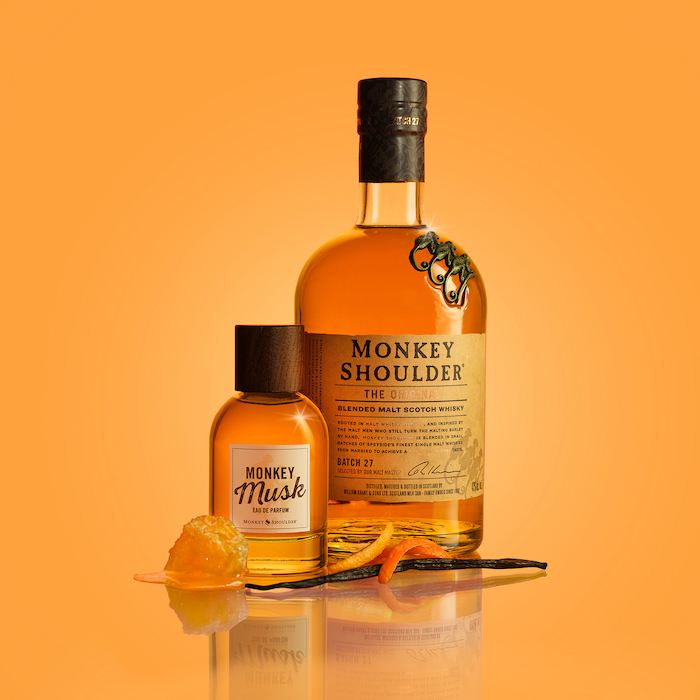 "It's a science, and the beautiful blend of Monkey Shoulder deserved to be replicated as a fragrance since it's made up of tasting notes you'd typically find in leading fragrances."
As a compliment to the 100 ml bottles of Monkey Musk pricing at $33.33, Monkey Shoulder's Ambassador Anna Mains has also crafted a cocktail inspired by the fragrance. The Nosey Monkey cocktail is made up of the same ingredients replicated in the notes of the fragrance including orange and honey, and it is presented below.
The Nosey Monkey
1 1/2 parts Monkey Shoulder
1/2 parts fresh lemon juice
3/4 parts fresh orange juice
1/2 parts honey syrup
3 dash angostura bitters
Top with Prosecco or dry champagne
Orange twist for garnish
Combine all ingredients except prosecco in a shaker with ice. Shake, strain into a coupe. Top with prosecco. Express orange twist, and then drop into drink as garnish.

Filmland Spirits, founded in 2020,...
Nino Kilgore-Marchetti is the founder and editor-in-chief of The Whiskey Wash, an award winning whiskey lifestyle website dedicated to informing and entertaining consumers about whisk(e)y on a global level. As a whisk(e)y journalist, expert and judge he has written about the subject extensively, been interviewed in various media outlets and...