Champagne might be more traditional, but we're celebrating this Valentines' Day with whiskey. Here are five sweet, silky, crowd-pleasing options that are just right for spending some quality time with your sweetheart.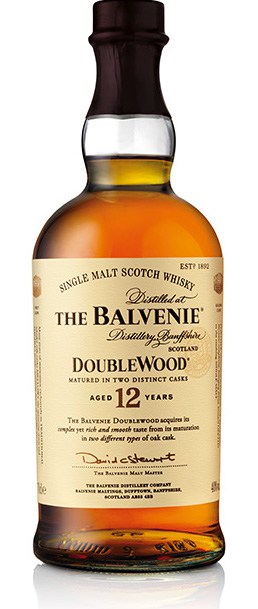 Balvenie Doublewood
Valentines' day is all about pairs, and this whisky is all about the harmonious pairing of ex-bourbon casks and sherry casks. Sweet, smooth, and mellow, Balvenie Doublewood is easy to find, reliably delicious, and one of those rare whiskies that appeal to newbies and nerds alike.

Angel's Envy Straight Bourbon
This bourbon whiskey is finished in port wine casks, giving it a ruddy hue and fruity, vinious cast. It's also got a sexy bottle and it's super-versatile in cocktails. Kick off the evening with a pre-dinner Brown Derby cocktail made with fresh-squeezed grapefruit juice, which is in season right about now.
Maker's Mark
There's something about all that drippy red wax that just feels like a valentine – maybe even one of those handmade valentines you got in second grade. Plus, this sweet, friendly, approachable bourbon builds bridges between couples with an asymmetry in their desire to drink whiskey.
Compass Box Hedonism
Embrace indulgence with Compass Box Hedonism, a whisky inspired by "pleasure, enjoyment, a celebration of that ideal marriage between distilled spirit and high quality oak maturation." Like Maker's Mark, this one's an easy sell to that significant other who might rather be drinking cabernet.
Catoctin Creek Maple Cask Finished Rye
Owned by a husband-and-wife team, Virginia distillery Catoctin Creek is in the top tier of American craft whiskey distilleries. Their maple cask finished variant of their popular Roundstone Rye is a limited release, but it's worth snatching up if you can get your hands on it. Rounded sweetness is balanced by rye spice and an ambitiously high proof—try it with a splash of water of even a cube or two of ice.

The Macallan distillery in Scotland...
Margarett Waterbury is the author of Scotch: A Complete Introduction to Scotland's Whiskies and a full-time freelance writer and editor. Her work has appeared in Whisky Advocate, Food and Wine, Spirited Magazine, Artisan Spirit, Edible Seattle, Sip Northwest, Civil Eats, Travel Oregon, Artisan Spirit, and many other publications. She is...